I recently attended one of Google's Fire Starters events, a series of talks aimed at online marketing practitioners who regularly use Google products and deal with a variety of digital marketing-related issues daily. This particular event focused on 'Attribution Modelling', something digital marketers are still struggling to understand and adopt in the multi-channel marketing mix. 
It's not all about the 'last click'
For quite some time, digital marketers have leant heavily on attributing all the credit for an online sale to the activity which generated the 'last click'.  However, research from Google shows 'last click attribution' relates to consumers who've already made the decision to purchase online. Therefore, when it comes to advertising online, marketers should be focussing their expenditure higher up in the funnel, in order to capture and influence shoppers at the research stage, thereby maximising on budgets.  Enter 'Attribution Modelling'.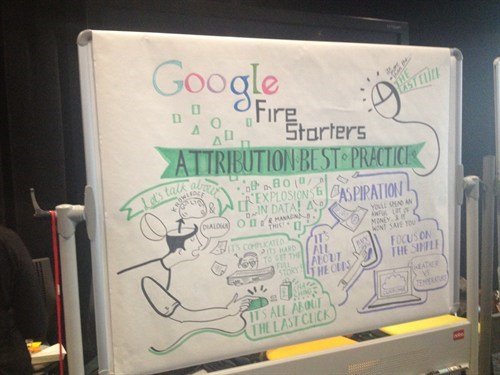 'Attribution Modelling' is still very much in its infancy both from the marketing practitioner's perspective and the tools available. This was evident from a quick poll of the event attendees.  Just 9% indicated they were certain about how to use 'Attribution Modelling' whilst 50% felt it could be used to justify spend in certain channels.
'Attribution Modelling' - an effective way to influence buying behaviour and maximise on advertising budgets
The main use of 'Attribution Modelling' is to justify budget for digital channels through an understanding and insights into the full consumer journey.  It helps you better understand how a particular channel or generic groups of keywords work for you and your business.
As Google puts it:
"When a customer buys or converts on your site, most conversion tracking tools credit the most recent link or ad clicked. In reality though, customers research, compare and make purchase decisions via multiple touch points across multiple channels. So marketers that measure return solely on the last channel that a customer touches before conversion are getting an incomplete picture, and potentially missing out on important opportunities to reach their customers."
So if you want to get smarter with your digital marketing and your budget, 'Attribution Modelling' is the way to go.
'Attribution Modelling' Dos:
Do make sure your customers' journeys are actually longer than one click. For example, Hilton receives 92% of all of its bookings through one click journeys.
Do set objectives of what you want to get out of it for the business
Do not just look at conversion only, also examine:

Non-converting activities
Impression data
Engagement level on site

Do ensure the attribution team does not sit within a particular channel when you're  setting up your attribution model, so it is impartial
Do ensure business is on board with a promise of better sales and savings in the future
Do ensure your website and campaigns are optimised to the level where further optimisation provides little return and hence does not justify further investment.
Do make certain you have resources to analyse and act on the additional data from 'Attribution Modelling'. Remember that setting it up is only part of the battle.
 'Attribution Modelling' Don'ts
Don't try to end world hunger with your 'Attribution Modelling', focus on one thing at a time and the factors you can control. Keep it simple.
Don't spend resources on building new models to incorporate the changes.  New edgy technology or platforms usually only influence around 5% of all online purchases.
Don't try to do everything at the same time. Ensure firstly that all data is correct and is in one location so you are comparing apples with apples.
Don't  assume:

There will be only one cookie per user
That a particular media/click will have the same value for all the users