The impact of COVID-19 on the digital marketing and advertising sectors is obvious if you have even the most basic understanding of the economy and how demand and supply works. We have essentially shifted our entire economy to a place where the delicate balance of demand and supply, across industries and sectors, has been aggressively pushed off-balance. This is damaging for some, but an opportunity for others.
This is clearly most manifest in the self-isolation and social distancing that is demanded of us now. Depending on the length and magnitude of voluntary or enforced quarantine, this likely delays some consumption (e.g. travel), terminates other types of consumption (e.g. the popcorn you would have eaten at the cinema), and conversely temporarily increases the demand for products and services to a level we have never seen before (e.g. toilet roll, hand sanitiser).
Finally, some will see demand fluctuate up or down, but the place of consumption will change. For example, we'll see people buying certain things online because department stores are no-go areas, or restaurants suffering reduced revenue for seated dining but seeing a surge in home delivery.
The rise and fall of demand
Looking at data from the search engines and data from regions like Hong Kong that are further progressed than we are in this pandemic, we get a strong sense of where demand has shifted: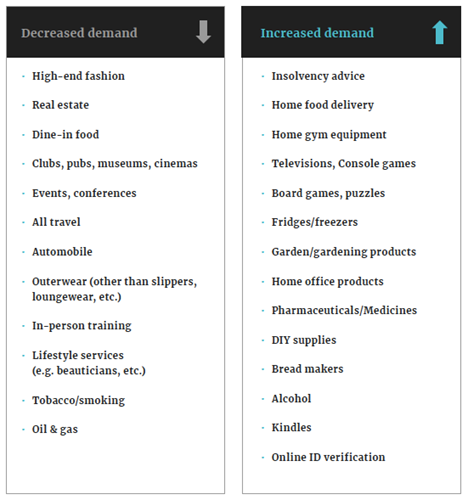 We are observing a 300%-500% increase in most of the in-demand categories.
More specifically, Microsoft Advertising has noted the below keyword spikes recently: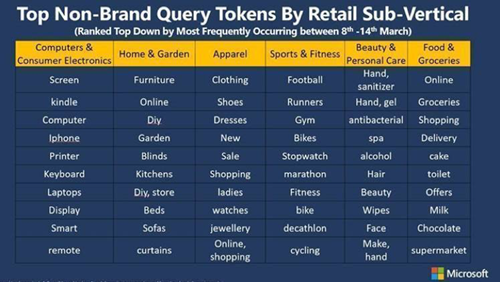 Secondary impact
The secondary impact, however, is that many of the businesses that are seeing an increase in demand aren't reaping those rewards as, having not anticipated this, stock levels aren't matching demand and/or they don't have the systems, resources, or expertise to drive more value from that demand. For example, we hear about panic buying and we'd assume that supermarkets are making an insane amount of money at this time but, while this may be true, their just-in-time methods of ordering and storage mean that they can't fill shelves fast enough to reap the full rewards from the demand.
The key challenge now is to calibrate, configure, or reconfigure your business to match the status quo. Your response, and the role your digital marketing plays to support that, obviously depends on whether you're seeing an increase or decrease in demand, or whether demand has simply shifted to other parts of your catalogue or service set.
Your response to increased demand
So, if you've seen demand increase, then you need to take advantage of this spike in the short-term to help safeguard your medium- and long-term performance, particularly if this is demand that will be satisfied over this pandemic and will then return to normal levels. It's about being nimble, embracing partners, and flexing your supply chain.
Key things to consider:
Understand that conversion rates have increased dramatically in some cases. As such, you should revisit your CPC, CPM, and CPA targets. For example, while volume in high-end fashion has dramatically decreased, the conversion rate has never been higher. If targets can be loosened, then you'll drive more revenue without impacting margin per product. There'll be an optimal point in terms of those metrics, so take the time to do the analysis to gauge those sweet spots.
Your site needs to stay up. I've noticed countless cases where sites are falling over and not dealing with the demand. It's not difficult to increase your capacity. Model trends and put your money where your mouth is.
Consumer behaviour has dramatically changed so you need to pay close attention to your analytics. Your understanding of how and where people bounce, which pages make you the most money, user behaviour on pages, and so on, is all likely to change drastically.
Reflect on your approach to product bundling, upselling, and promotions to better reflect this demand and supply.
With demand having shifted, you'll likely be focusing on reconfiguring paid search keywords and bid amounts, but you shouldn't forget that other channels should also be optimised. For example, a small change in SEO page architecture could flex your organic rankings in favour of higher-yielding products and categories.
A little bit of data science can go a long way.
Some businesses may be in the categories that have seen an increase in demand but aren't experiencing that increase themselves. This would imply that they're not marketing aggressively or effectively enough. They must reflect, with some urgency, whether they're investing adequately to capture some of this demand, or whether they have the resources to manage the required activities to do so.
Your response to decreased demand
If you have seen demand drop, then now is a time to innovate. That's easier said than done, of course, but it's worth considering three avenues: promotion, reframing, pivoting.
This won't last forever, and some business are finding ways to promote immediate consumption that would typically be delayed, deferred, or terminated. For example, The Bar With No Name at 69 Colebrook Row is offering its patrons vouchers which can be bought now and later redeemed when things go back to normal. These vouchers offer a discount on your bill when redeemed. They're using email to spread that message, but there's no reason why this couldn't also be driven through other channels, e.g. Instagram.
In some cases, you can reframe your product or service contrary to its typical usage case. For example, if you're an outdoors brand, how do you create a hashtagable movement to bring the outdoors inside? A good example are the movie studios who plan to release the movies that would have been showing in the next few weeks or months to cable subscribers and have them buy for home consumption instead. Social media is the rocket fuel for these types of reframes.
Is there still demand for your product or service, but it just needs to be provided at arm's length? For example, garden centres pivoting to home delivery, or corporate trainers digitising their material and delivering it online. While this poses a design and logistical challenge, there's never been a time in history during which businesses are able to pivot with the speed that today's technology allows for. Sites can now be spun up in hours, out-of-the-box functionality exists for practically every user case, and platforms exist that can be leveraged, like Teachable.com, to alter the shape and nature of your business overnight.
Finally, there's some extreme pivots that you might be capable of. For example, what if Sky Sports hosted a massive eSports FIFA tournament contested by each Premier League club's best FIFA player, representing the actual club they play for? Ad revenue would be huge, there's a huge sponsorship opportunity, and it will give people something to rally around on the weekend. It may have also reduced the number of people who have now paused their sports package subscription until the live action resumes.
This is a challenging time but there are options to at least help mitigate those challenges and, in some cases, an opportunity to drive unprecedented revenue or force innovation that will see you benefit once demand bounces back. And it will likely bounce back incredibly forcefully as people become intoxicated with the idea of living full lives once again.
Start today
In light of the above, on a first come first served basis, Greenlight will be offering a free audit of your site, analytics, and activities to make sure you're not missing out on an opportunity. We'll apply our data science methodology over your data, and also apply our most creative minds to the task and give you three tactics you should employ immediately. If you're interested, please contact: rfi@greenlightdigital.com
The State of the Industry: Coronavirus (COVID-19)
There's no doubt this is a challenging time for businesses across all sectors, regardless of whether they're experiencing an increase or decrease in demand since the outbreak of coronavirus. To give an overview of the current state of the industry, we've gathered some of the most important trends and insights that we're seeing across the digital marketing landscape and summarised them into digestible stats.
With the current uncertainty, budgets and strategy are under the microscope. But, for those willing to be agile, to be brave, and to maximise efficiencies, there are opportunities to be found.
Contingency planning
39% of UK organisations have no business contingency plan in place to deal with the coronavirus outbreak
69% of global business leaders have experienced at least one corporate crisis in the last five years
Service-based industries – retail, wholesale, food and drink, etc. – make up 79% of the UK economy and are expected to be hit hard unless they have alternative methods to remain transactional once in-store activity ceases
Customer behaviour
As more and more people are asked to stay at home, it's expected that there'll be a 60% increase in the amount of content people watch
Mobile phone usage is expected to rise in the UK; in China, mobile usage increased by almost 20% from early January to mid-February due to workers being quarantined
In the US, customers are already spending just under twelve hours a day on media platforms, and 75% are broadening their media options with streaming subscriptions and TV-connected devices
Since 10th March, UK retail footfall has decreased by 60%
85% of UK customers said they expect to return to their normal way of shopping once the threat from the virus has passed
Digital marketing strategy
55% of UK marketers say that marketing campaigns are currently delayed or under review
Despite 77% of UK marketers predicting customer delays in major spending decisions, most also predict a rise in other areas
91% predict an increase in the use of online services, and 77% predict an increase in social media activity
With customers now socially distancing or self-isolating at home, 70% of marketers predict that there'll be an increase in eCommerce usage – which has already become strongly apparent among online grocery shopping retailers
References