The 'third age of consumption', a theory following on from the first and second ages of consumption, is emerging, and can be defined as the era in which we're driven by relationships, experiences and algorithms.
In the first stage of consumption - during the 17th - 19th centuries - luxury and scarcity went hand in hand. However, in the second stage - during the mid-19th century - we saw the opening of large department stores which marked the birth of the middle class consumer. At about this time, mass advertising emerged and truly drove consumerism forward, marking an era of 'more is more' and perpetual spending on things whether they were needed or not. The more we had, the more secure we felt.
The third age, which begun during the 2008 financial crisis, was the first time our core consumer values were challenged. Our sense of security was broken, leading to a new way of thinking and to a new form of consumerism underpinned by real-life relationships and experiences; making the consumption of 'things' a lesser priority. So, after looking into our current era, how can we apply these trends to our own marketing strategies?   
Algorithms
Algorithms are arguably most important to brands and marketers within the context of digital marketing. Big data is being effectively leveraged by brands through the use of algorithms; today, they manage the delivery of what messaging we receive and how we group communications to audiences, amongst other things. The expression 'data first' in itself refers to a decision-making process informed by algorithms and results - and when data can't provide a satisfactory answer, human reasoning and opinions are used. As technology develops, algorithms will become more powerful and accurate; consumers will also become savvier and develop a better understanding of how they work. Showcasing relevant advertising to the end consumer will become a standard - and in order to be competitive, brands will need to find ways beyond algorithms to impress our consumers. In the current era, with customers valuing experiences, marketing activity such as events will enable brands to distinguish themselves from competitors.
Experiences
We're seeing a huge wave of retailers create unique experiences in-store to drive consumers through their doors, whereby this indirect approach to drive sales is becoming more and more necessary. For example, in May 2017, Topshop's flagship store was set up with a virtual reality slide, combining a real-life experience with technology for shopgoers, and promoting Topshop as a memorable and fun brand whilst driving consumers in-store. ***
Providing consumers with valuable and memorable experiences increases brands' chances to be top of mind and to shift brands' reputation in the right direction. Experiences can be shared and built on relationships, making them a very powerful marketing tool for brands.
Relationships
When considering relationships with customers, brands should consider two aspects. Firstly, are the experiences created for customers building further on existing relationships? Secondly, what is the relationship based on? Consumers are becoming more impatient and expectations are constantly rising - so how can brands effectively manage consumer relationships without a profit-threatening investment? A solution which spread recently is the adoption of interactive chat boxes. Using a combination of algorithms and human input, consumers can receive instant answers without wasting time researching on-site. Another means is the improvement of delivery services which is an ongoing process aiming to provide cheaper and quicker deliveries. Amazon is an excellent example, with its ability to deliver an item within two hours of purchase within central London.
Final thought
We're moving towards a society where we carry less but still look for exciting and valuable experiences. As technology affects the quality of real human interactions, we feel the need to build relationships and live experiences at the fullest. But, how are brands contributing to this consumer shift? Brands' ability to drive effective, efficient, relevant and informative messages sits in their ability to build algorithms. However, brands are now also expected to provide positive experiences, not just through customer service, but also by providing standout events that drive interest beyond products or service offers. If brands are able to achieve that, then they might become top of mind to new consumers.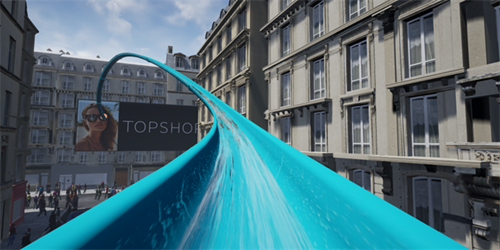 Source: http://www.thedrum.com/news/2017/05/25/topshop-transform-oxford-street-giant-water-slide-vr