What is Local Search?
Local Search simply refers to any search engine that allows the user to restrict the results of his or her search to a specific geographical area by simply adding the location name, postcode, or other geographical cue to the search query.
The screenshot below shows how Google deals with such a search, in this instance for 'library new york':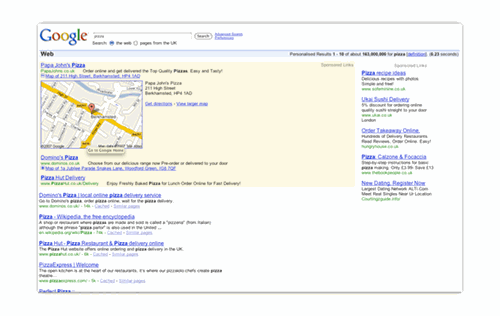 There are two elements in the above screenshot that are Universal 'Local Search' augmentations to this location restricted query. The first is the very obvious map in the middle of the search results that plots several libraries on a Google Map of New York. The second is the less obvious integration of Google Maps into the first result on the page, which is for the 'Library Hotel' in New York, represented by a plus sign that can be clicked on which opens up a map of the location of that hotel: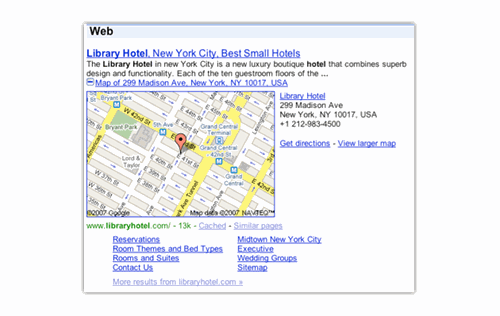 Having your site in Google Local, and in Google's standard results by extension, is therefore incredibly attractive as it could realistically result in your site holding 4 of the 6 top spots in a search results list (an organic result with an indent, a paid search spot and a map result). The traffic delivery would in that case be significant to say the least.
A user viewing a local search result can also often add to its listing through submitting a review of the actual establishment. Take for example the local search result for a query for 'restaurants in ec1':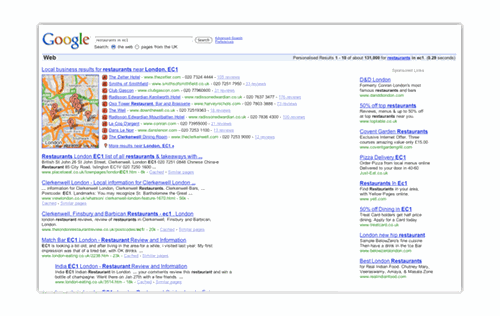 Notice the 'reviews' links next to each map entry. For example, the link to '33 reviews' for Smiths of Smithfield. Clicking on that link takes you to a page of reviews that have either been found on the Internet by Google during its standard crawling (for example from Timeout.com) or submitted by the public: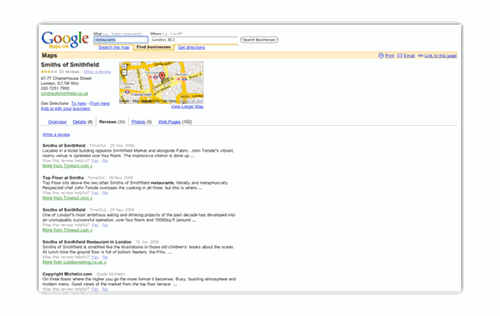 Notice also the link above the first review for 'Write a review'. This is a great illustration of how Google's grand aims for local search, and search generally, go beyond just mapping and directions but are focused on collecting data from everywhere and anywhere about everything, in this instance:
i. From the business owner who may have submitted his/her restaurant details and images.
ii. From customers submitting reviews (User Generated Content).
iii. From crawling the restaurant's website itself.
iv. From crawling other sites to find reviews that have already been written.
This integration of data and information from multiple sources is where Local Search merges with the aims and ambitions behind Google Base, which we covered in November's Universal Search article.
So, how do you exploit Local Search results as a marketer?
All major search engines allow business owners to submit the details of their properties to them. This allows the search engines to receive information from you about the geographical location of your business.
Google's Local Business Centre, for example, not only allows you to submit the name and address of your establishment, or your clients', to Google Maps (and therefore to Google Search indirectly) but also up to ten images and even the details of promotional coupons.
For MSN Live and Yahoo Local, the approach is almost identical with a submission to Windows Live Local and Yahoo Local being the optimal route.
In all cases a validation process is used to ensure that only the real proprietor of a business can add or update the Local details for that property. For Google this involves posting a PIN number to the physical address (which takes about 3 weeks following your request for one) after which a user can add a local listing using the PIN number as verification. Once you submit the details the local listing will go live within about 10 days.
Having a listing in the Yellow Pages or Thomson Local will also help, and if you're already in Local search results without ever having submitted your establishment to the search engines it's likely that the search engines found you first through that route. However, this is more likely to have occurred if you are already well known and the search engines made an effort to include you as searchers would expect to see you present.
How do you optimise for Local Search?
The criteria the big three search engines (Google, Yahoo, MSN) use to rank local listings are very much the same as their standard algorithms, but with the addition of variables such as how far away a business is from the exact destination requested by the searcher. More specifically, optimising for Local Search is concerned with ensuring that your site is deemed authoritative for your location and legitimate for your business name. Therefore, the following optimisations will help:
i. Your site should be linked to from other sites that mention all or part of your location.
ii. Your site should be linked to with anchor text relevant to all or part of your business name.
iii. Your site should utilise a meta title and on-page content that at least mentions your business name.
iv. Your site should mention your location and also be associated with a single location.
v. Include your business name in your domain name.
Various methods of performing the above optimisations could include:
i. Submitting your site to directories that are specific to your country, city, town, or even borough.
ii. Get into the local online press using good old-fashioned PR. Getting a link or two from local newspaper sites, for example, would be perfect, and should be good for business generally.
iii. Sponsoring local sports teams or charities helps create some noise about you and your establishment which can help generate links in.
iv. Exploiting social media when it's relevant to your location is great too. This can include responding to relevant blog or forum posts where adding a link to your site is helpful and useful, with the optimal anchor text.
The future of Local Search
It's important to think of Local Search not as a gimmick but as central to an important shift in how we consume data online. It will create a bridge between the online and offline worlds in exciting and innovative ways. The rise of mobile internet usage is part of that process as it will facilitate the mobility required for that shift.
It will affect search engine advertising principally through making Paid Search feasible for small businesses that are local in nature and in their service delivery, e.g. restaurants. At home or on the move, people will need local answers, and where people need answers there will be the opportunity for advertising. Within this context, with local ad spend making its way into the search engine coffers, who would bet against Google being the biggest company in the world within the next 5 years?
Local Search integration into GPRS can't be far away either, nor can the accumulation of UGC on the move. Picture Google asking you to rate the movie you watched after leaving the cinema and making the rating available to other people searching for the movie online. Factor in that you may have booked the cinema tickets through Google Checkout and received directions to the cinema via Google Local, and you'll see how it can all connect over time.
The opportunities really are endless.
UPDATE
Local Search + Paid Search?
I was presented with a search engine results page this week, following the completion of the above article, that contained a Google Local integration in the top Paid Search result. The search was for 'pizza':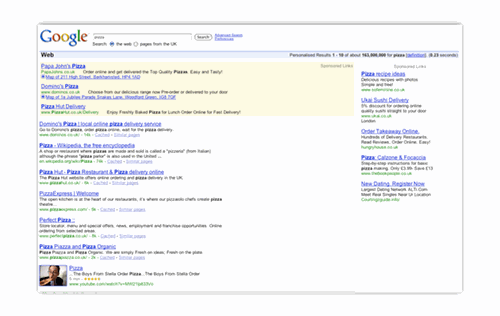 In a previous article I outlined how Google is clearly going through a period of accelerated testing of its interface, much of which is related to how best it should integrate Universal Search elements into its results. The above example is not very widespread so must represent a Google test of some description.

Related Posts
Exploiting Universal Search - Part 3: Google Base
Exploiting Universal Search - Part 2: Video
Exploiting Universal Search - Part 1: Images