During the past few months mobile search has been a hot topic within SEO circles. Google's Mobile-Friendly update had many SEO managers, online marketing managers and business owners panicking that they didn't have a mobile optimised website. A couple of weeks later, Google announced that more searches were being carried out on mobile than desktop in ten countries, including the US and Japan.
Now Google are releasing an upgrade to their Google Now service - Google Now on Tap.
What is Google Now on Tap?
Google Now on Tap is an upgrade of the Google Now service which was first launched back in 2012. Google Now is a personal digital assistant that attempts to answer questions, provide recommendations and carry out actions based upon a user's search habits. How is Now on Tap different?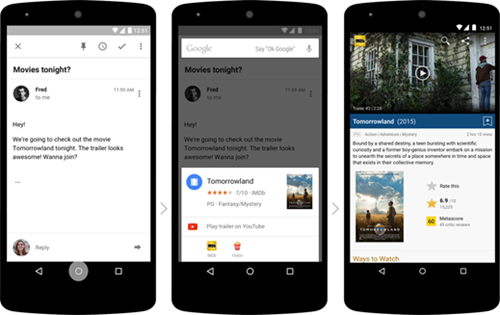 Google Now on Tap is essentially a supercharged version of Google Now, attempting to provide more relevant results quicker from almost anywhere on your phone. It is pretty simple to use; simply hold down the home button on whatever screen you want more information for and Now on Tap will return Google Now cards with useful information.
How does Google Now on Tap work?
Google Now on Tap will pretty much let you search any screen on your phone, from text messages, emails and web pages through to apps. Currently the results will either be information from Google's Knowledge Graph or content within apps that you have installed. For apps to appear as links within Now on Tap results, the app's developers would have had to implement app indexing so that Google is able to send users to the correct information.
A nice example Google provided was searching within an email for information about a movie simply by holding the home button. You don't need to leave the email app and you're able to see movie ratings, watch trailers and even buy tickets.
Will Google Now on Tap show links to web content?
Currently, Now on Tap will only shows links to content within apps; however, Googler Aparna Chennapragada stated at SMX Advanced that Google are looking into ways to show links to web pages within Now on Tap results, so we should expect to see this implemented at some point, possibly even before launch.
The future of mobile search
Recent months have shown the growing importance of mobile search and this trend is unlikely to change any time soon. For businesses to stay competitive in the search space, it would be wise to not only optimise websites for mobile, but also to optimise apps for search.