Influencer marketing is hardly new. Brands, and their marketing teams, have been savvy enough to know that tapping into the popularity of a celebrity can spin their product in a positive light. You only need turn on the TV or radio to watch and hear celebrities lining up to endorse this or that product. But for what may seem like an open goal, it's surprisingly common for marketers to miss the mark.
Take Scott Disick who - I'm told - appears in the TV show 'Keeping Up With The Kardashians'. Check out the description in the below Instagram post he added a few months ago: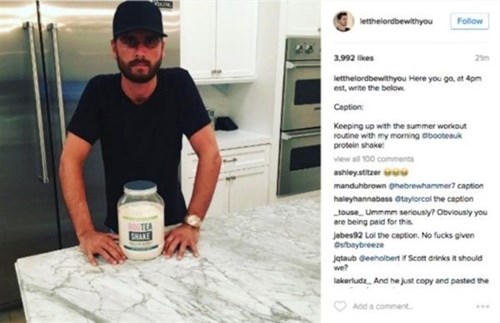 Image source: Content Marketing Institute
He clearly didn't even take the time to read through the 21 words he had been sent, telling him what to post, and rather opted for a select all and post approach. Let's not even begin questioning the logic behind a "morning protein shake" post going out at 4pm.
Or you could take England and Bournemouth footballer, Jermain Defoe, who could barely contain his excitement at being sent two one-litre cartons and three tins of Ambrosia custard. One of which - get this - was personalised with his name on it.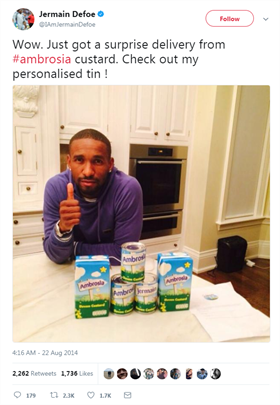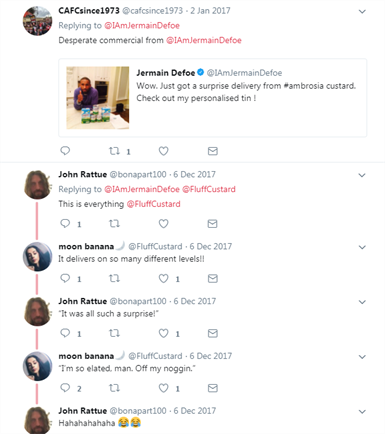 While it's all good fun (because who doesn't love a public social media fluff?), there are serious lessons to be learnt from this.
The power of expert opinions in branded content
There's a place for expert endorsement or opinion in branded content, but it must come across as genuine. I'll confess, I find it implausible that Jermain Defoe comes home from a hard day's training and tucks into a bowl of microwavable custard.
This means that expert partnerships must be given careful thought and consideration. And, as with all partnerships, there must be mutual benefits - and that's not necessarily just a truck full of custard. An expert must complement a brand and vice versa.
Now, experts come in many guises. They could be architects, athletes, doctors, forgers, or even just members of the public with a story to tell. But what will unify all effective expert partnerships is a snug fit between a brand's messaging and the expert's area of interest.
Influencer endorsement is the perfect vehicle for a social feed, but to reach SEO goals you're better off partnering with an expert who can provide deeper knowledge and an authoritative tone to your campaign.
How to nail expert partnerships for SEO success
Particularly if you're looking for SEO benefits, influencer partnerships aren't as simple as posting an image of a celeb next to a certain product. The best way to leverage a given expert is to deeply engrain them in your content offering. This could take the form of a video Q&A, a by-lined article, or even a short supporting quote.
The mutual benefit here is that the expert gets their expertise amplified to a potentially new audience and a linked citation back to their work, while the brand can piggyback on the gravitas the expert brings.
Consider baking expert opinions into the very heart of your content marketing efforts, and you'll have laid the groundwork for a successful SEO campaign.
What brands get from an influencer partnership
It's an unfortunate truth that consumers tend to take a brand's messaging with a pinch of salt, because of course that brand thinks their product is the best on the market.
But research carried out by Twitter shows that an influencer is almost as trusted as a friend when it comes to brand endorsement. Therefore, aligning yourself with an expert who holds influence within a given field, no matter how niche, is likely to increase the authority with which a brand talks about a subject.
Influencers and experts often come with their own dedicated fanbase or audience. If the brand and influencer are well aligned, then the expert-led campaign (if effectively promoted by the expert involved) is likely to open the brand up to an engaged and receptive new audience.
But the real win comes in the process of outreach. A big part of the day-to-day life of any content marketer is considering how a piece of content will earn links from high value publications. If you have a well-regarded expert as part of your outreach arsenal, this process becomes a lot easier. The expert can be on hand to carry out interviews with any journalists considering picking up the story, to draft a by-lined article for the publication, or even just having their name on the campaign can be enough to sway a publication into featuring your story on their site - hopefully with a juicy link back to the original content.