Boasting an incredible active audience of 300 million, Instagram has emerged to be one of the fastest and most engaging social visual platform in the last few years. According to a study conducted by SocialBakers in 2014, it was found that the engagement rate across Instagram is 50 times higher than on Twitter (numbers that might make you rethink your social strategy).
Before the recent expansion and broader availability of Instagram advertising to brands, influencer outreach is and has been one of the most effective ways of engaging and reaching out to new potential audiences on this platform. Partnering with influencers not only uplifts reach, engagement and brand awareness, but those influenced by content are more likely to invest in a product or service.
In an article on Social Media Examiner Kate Talbot suggests that "influencers are the modern-day celebrities". Indeed, that makes us ponder, what's the best way to collaborate with these social tastemakers?
Here are some of the ways to help you kick-start your influencer marketing on Instagram. 
Start with 'influencer identification'
It's crucial to narrow down the right influencers for a successful blogger outreach campaign. A key step of blogger identification is to craft 'influencer personas', an overarching profile on the types of bloggers that appeal to a brand's target audiences. This includes researching their interest categories, posting style, social presence and a quick peak at the type of brands they've partnered with. This will help you keep on track with your influencer outreach activity; whether a particular influencer is more suitable for Twitter than Instagram, their content style is professional than casual, or if they've recently collaborated with a competitor brand, etc. 
Leverage an 'influencer endorsement'
Once you have identified the key influencers who'd be a great fit your brand, the next step is to define the collaboration opportunity with them. Whether it's partnering to showcase the new collection launch or an Instagram takeover for an expert chat, influencers like being part of exclusive brand endorsements. Kate from Social Media Examiner gives an example of a successful blogger partnership in her article. Here she talks about the brand Birchbox, who collaborated with the blogger Emily Schuman to promote lifestyle products by endorsing and curating a special edition of their product box. This dual effort resulted in a lot of engagement and reached more than 550,000 consumers.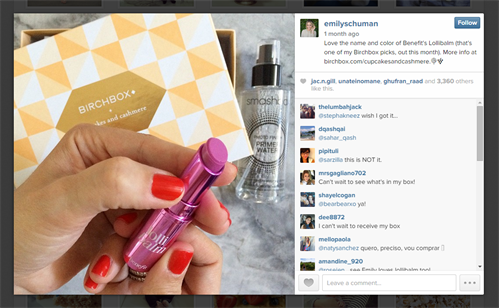 Promote a milestone
Milestones allow your brand to celebrate the key important products/services or series of events relevant to your brand. Partnering with influencers means you can amplify the launch of a new product/service, anniversary of an iconic product or a key achievement /innovation stage of your brand.  
Collaborate for a cause
Social cause-led campaigns work for both parties - it puts the brand and the influencers in the best positive light. Many influencers are happy to support a cause, which in turn helps to elevate the reach of the brand's social campaign.
Partner to promote an event
Whether your brand is running or attending an event, working with influencers that have a strong voice within your target market is key to generating buzz and word of mouth. When running events, inviting key influencers can increase promotion and create excitement around the event - live Instagram takeovers and Q&A sessions can further leverage user-generated content. When it comes to attending events, these can be particularly valuable for showcasing your products. For example, festivals are big during summers and a key event for many fashion and beauty brands to showcase festival-oriented outfits and styles.
Showcase influencer partnership through creative content formats
Collaborating with influencers on visual content campaigns can certainly spark a discussion and content sharing. Whether these content forms include illustrations, hyperlapse videos or a cinemagraph animation, bloggers like exploring new content avenues that haven't been overdone.
Analyse influencer marketing campaigns
If you're not tracking the effectiveness of your campaigns, you're certainly missing out on the value and purpose of creating them. To ensure you meet your goals, track the metrics that define the KPIs of your campaign, through a series of qualitative (sentiment, content influence etc.) and quantitative metrics (engagement rate, reach etc.).
Instagram outreach campaigns with influencers can be very beneficial for your social media efforts, if done properly. Are you adapting any of the above tactics for your Instagram marketing initiatives?