Compelling, visually appealing listings are an area that often get overlooked in the never-ending quest for the top rankings. Fact is, it's important that digital marketers focus on engagement and click-through rates (CTR) a little bit more as, at the end of the day, no matter how much you improve your ranking, if your listing isn't compelling, it's all in vain.
Although Google hasn't confirmed that click-through rates are a direct ranking factor, the below slide from a Google engineer at SMX West in March 2016 suggests that they actually do play a significant role.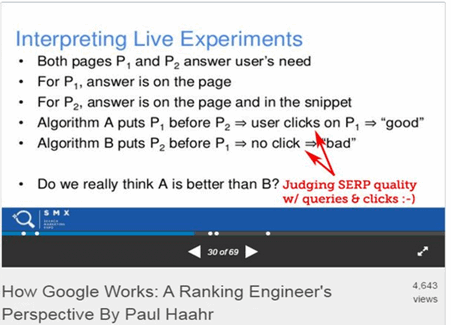 So, what should digital marketers make of this? In a nutshell, it's time to go back to basics with some simple steps:
1)     Identify pages with a relatively low click-through rate.
2)     Find opportunities to expand title tags - in May last year, Google expanded the title tag limit to 600px, a 17% increase. Take advantage of this increased space and the opportunity to include more high-priority keywords.
3)     Make your meta tags more compelling, think about them as catchy and compelling newspaper headlines. But don't stop there, also consider your meta descriptions too.
4)     Rich snippets - these can really make your listing to stand out.
And, last but not least, once you've expanded and enhanced your meta tags, make sure you track your progress in Google Search Console. By continuously monitoring progress, you'll be able to assess how to tinker and test your methodology so that, in the long run, you'll improve your organic listing.