Leading up to the Olympics, Greenlight is undertaking research into how well the Olympics is working for the brands that sponsor it. We will use our own social media framework to assess whether the Olympics are beneficial to the brands, and to what degree social media is driving those benefits. We will look closely at Adidas and Cadbury as case studies, plus investigate the wider story of Olympic sponsorship on the whole. Today, the story begins.
The Olympics is a huge deal for the brands that sponsor it. With around five billion people set to watch the Games, the Olympics is a massive opportunity for brands to get their message out to a vast number of people. As a result, brands will spend billions promoting their sponsorships, hoping that the prestige of the Olympics will also help to boost their own profiles.
But do the Olympics actually work for the brands that sponsor it?
This is the first Olympic Games in which we can actually answer this question with some degree of accuracy. Millions of people are talking about the Olympics online; in fact, this month the Olympic Committee even unveiled its own social network, the Olympic Athletes' Hub. And brands have followed suit, with many shifting their emphasis from paid media to social media, hoping that social will do the work to raise their profiles through online buzz and shared media.
The story is especially interesting for sponsors such as Adidas. A report earlier this year showed that Nike beat Adidas in online buzz about the Olympics, and Nike isn't even an Olympics sponsor. Adidas has made up in part for it with its film featuring David Beckham, so far the most shared Olympic ad from an official sponsor. However, it has recently received flack when the Independent published reports that the Adidas apparel worn by Team GB athletes are made in sweatshops.
And then you have sponsors like Cadbury who've already demonstrated their ability to use social media through campaigns such as the Phil Collins drumming Gorilla and the re-launch of the Wispa. In fact, it recently piggybacked on the Olympics (and Wispa's 1.8m Facebook fans) to re-launch the Wispa Gold, garnering an 1800% boost in positive tweets using Promoted Trends.
For marketers, key to this shift towards social media is our ability to measure that shift and study its impact on brand awareness.  
Leading up to the Olympics, we'll be using our own social media framework to look at how brands are benefiting (or not) from Olympic sponsorship. We'll be taking a close look at Adidas and Cadbury, while also comparing Olympic brand sponsors on the whole. Has the Olympics created more buzz for brand sponsors? Is that buzz positive or negative for the brand? What's driving this buzz? What has worked? What has failed?
As it stands, Adidas is one of the most widely discussed brands on the Internet, with a whopping 225K websites mentioning Adidas in the last 10 days alone. But it's not all roses - only 41% of those mentions are positive, and 26% are negative, many due to Chicago Bulls player Derrick Rose who was has already featured in an Adidas advert and was set to be one of Adidas' leading stars throughout the games, but has had to back out of the Olympics due to a torn ACL. This wasn't helped by a tweet from Nike's Jason Petrie that Rose was "breaking down before our very eyes".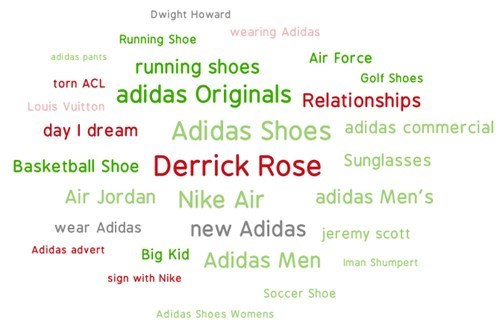 Source: Brandwatch
Cadbury has less overall buzz (21k over the last ten days) but discussion is notably positive around its products and its campaigns (55% positive, 5% negative). Its most recent success has been the Wonka-inspired Unwrap Gold promotion, offering consumers the chance to London 2012 ticket packages if they find an excusive golden voucher inside specially marked packs of Dairy Milk.
 "I'm gonna buy 30 bars of cadburychocolate in hope to find a gold winning ticket to the olympics!" (Twitter)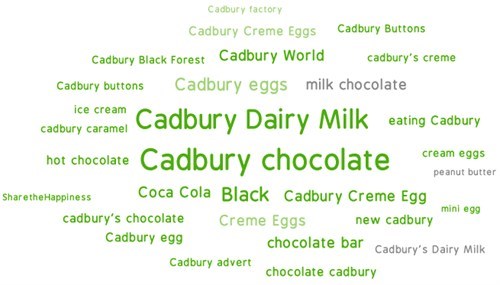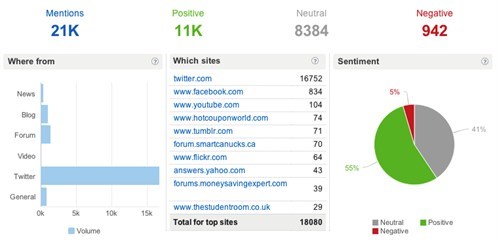 Source: Brandwatch
But like Adidas, and all sponsors of the 2012 Olympics, it remains to be seen whether the Olympics is having a positive effects on these brands. We'll be measuring this effect leading up to the Olympics and reporting on our findings as we go.
About our Methodology
Create a benchmark of Social Media (SM) chatter in English for the brands and for the topic (as at 21/04/12)
Monitor changes in chatter
Identify causes for change in levels of chatter
Assess to what degree changes are beneficial or otherwise to the brand
Assess to what degree Social Media is driving the changes and, as a phenomenon, improving the marketing & PR process for the brands in focus and the wider story