The purpose of social media campaigns is to ultimately convey a message. From branding and sales, to raising awareness - social media is a powerful tool for spreading the word.  This month two such campaigns have stood out, as a method of increasing awareness around sometimes sensitive subjects. 
JO'S CERVICAL CANCER TRUST #SMEARFORSMEAR CAMPAIGN
The subject of cervical cancer and smear tests can be daunting for many women. Responding to the alarming fact that one in three women aged 25 to 29 don't get their smear tests done, charity Jo's Cervical Cancer Trust, launched the #smearforsmear campaign.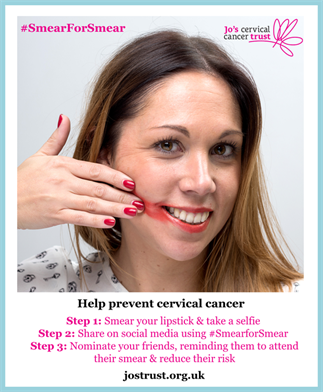 Inspired by a concept introduced by a team of Oxford University students, Jo's Cervical Cancer Trust's #smearforsmear campaign asks women to raise the awareness for Cervical Cancer and smear tests by taking a smeared lipstick selfie and encouraging friends and family to support the cause by sharing their own.
The campaign is still ongoing but has already been well-received on social media, bagging 16,000+ hashtag mentions on Twitter and 6000+ on Instagram. Endorsements from celebrities and social influencers certainly gave this campaign a strong momentum, especially when there are names like Stephen Fry, Cara Delevinge, Samantha Chapman, Lily Pebbles and Rosie Londoner on the list.  According to the charity, 26 million people saw the campaign in the first 24 hours of the launch, and the Potential Impressions on Twitter alone are 121 Million to date.
With a simple mechanism timed perfectly around Cervical Cancer Awareness Week, this is a creative way to encourage women to prevent a serious condition with a simple call to attend the check-ups.
Although the campaign message is compelling when it comes to informing and educating the audiences, unlike #ALSICEBUCKETCHALLENGE (which had raised £48 Million in less than a month of its launch), little is seen in terms of donations or fundraising for the charity. Jo's Trust supports people that are affected by cervical cancer, so having a donation 'call-to-action' in the campaign could have given it a bit more back bone.
NET-A-PORTER'S #EMPOWEREDBY CAMPAIGN
Online luxury retailer, Net-A-Porter is no stranger to social media. This month it launched an Instagram-led social media campaign which aims to celebrate women around the world. It encourages women to post images of themselves and/or friends making a 'W' with their arms to honour inspirational women worldwide. The campaign uses the hashtag #empoweredby, and the initial 'W', here, stands for 'Women'.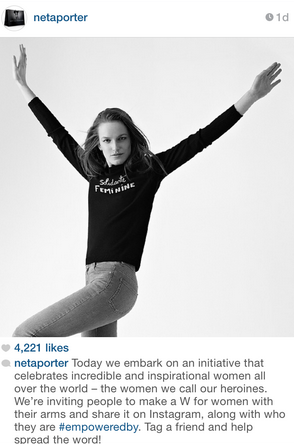 Although the hashtag has attracted only 380 mentions on Instagram to date, it certainly is an exciting initiative to support incredible women by asking social audiences to nominate people they find inspirational. It also sets the scene for Net-A-Porter in reference to International Women's Day, which is on 8th March 2015. It'll be interesting to see whether the campaign picks up a momentum closer to the day.
The choice of social network also shows the avid interest of Luxury brands in Instagram. Over 67% of the luxury retail brands are now active on Instagram and, according to a Forrester Research study, Instagram has a high audience traction where the engagement per follower ratio is 58 times that of Facebook and 120 times Twitter's. So if you're looking to integrate your visual brand story on social media, now is the time to checkout Instagram.
As a final take, I believe the concept of the campaign is strong but Net-A-Porter is slightly missing the mark when it comes to the execution of it. While Instagram takes the lead as an audience engagement platform, the campaign reach could have been elevated by extending the entry mechanism to more than one social network, such as allowing audiences to participate via Twitter too, where Net-A-Porter has over 697,000 followers.
What's your take on these campaigns? Share your thoughts in the comments box below. Meanwhile, I'm off to pose and snap in the shape of a 'W'.