Every year, multiple think tanks, publishers and agencies generate reports offering insights into the state of content marketing, touching on budgets, trends, strategy and so on. While many of these make an interesting read, it's useful to remember that these reports are often part of these companies' own content marketing efforts, and therefore some of the results need to be taken with a pinch of salt.

In the latest such report from The Content Marketing Institute, 87% of respondents answered that they'd used content marketing as part of their wider marketing efforts (not much of a surprise). What's interesting is that out of the current 13% of non-users, 73% are planning to launch a content marketing campaign in the next 12 months, highlighting a growth curve in the sector. This is backed by two thirds of respondents (74%) admitting to having a small in-house content marketing team serving the organisation.
Despite content marketing being the top global marketing priority for 2017 (above ROI and accountability), UK marketers admit their efforts are far from being mature. As such, most marketers (78%) would class their efforts as adolescent and pre-adolescent level, as per the diagram below: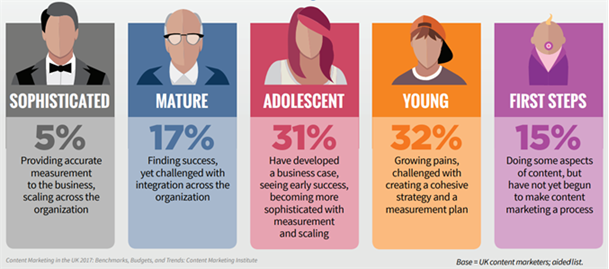 The above is supported by the size of content marketing teams, with two thirds of organisations admitting their internal teams are either very small, or made of only one person serving the entire organisation. Despite this, teams continue to grow, which has largely been encouraged by the success of their efforts in relation to their business' goals.
But what contributes to this success? Well, 85% of marketers agree on content creation having the biggest impact, especially when focused on higher quality, more efficient content. 71% of marketers agree they tend to prioritise delivering content quality over quantity, with two in three (65%) admitting they focus on creating content with their audience in mind rather than their brand. In terms of the techniques marketers use, the most common one across the board remains keyword research (61%), followed by website analysis (58%) and social listening (54%).
Content marketing is only poised to grow in the next few years, especially as more and more material is consumed online, where the content hosting capacity is endless compared to print media. Focus on the content consumer (as opposed to the brand or search engine) will begin to grow, as will the quality of the content produced. Keyword research will start being backed by higher quality research, such as quantitative primary research, A/B testing, and database analysis. It's an interesting and very positive time for content marketers and the clients that embark on this journey with them.