As social media continues to grow as a staple in every business' arsenal of brand development functions, so do the strategies required to develop a strong social presence. As such, we're advocates of the importance of social media listening, which allows you to find and assess discussions, both good and bad, which are taking place on social media about your brand. You can even set up queries to pick up on specifics such as conversations taking place in the UK only, response to recent PR and marketing activity, posts with your hashtag, and so on. These all serve to provide you with accurate statistics on brand perception across a variety of discussions.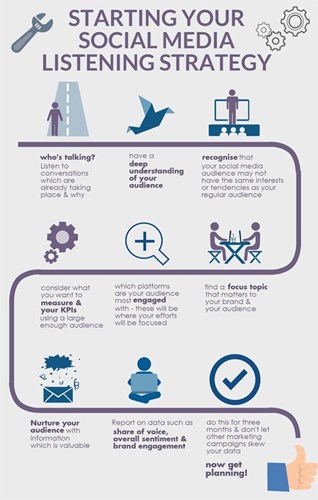 The building blocks of a good strategy
Understanding your target audience is key when devising a new social media strategy, which can be established based on the conversations people are already having with you, what your product and/or service offering is and who your competitors are. What is worth noting in this scenario is that your social audience is not likely to be the same as your regular audience, it will be built up of distinct segments and most likely they will differ in terms of behaviour and content consumption preferences.
Not only do you need to have a firm understanding of who you are currently appealing to and how this differs to other players in the market, you need to set up objectives based on your current social standing. Delving into social listening counts for nothing if it's not being measured, which underlines the importance of establishing core KPIs such as current share of voice, overall sentiment and brand engagement, which are all good blocks for brands to start with.
In these early stages of developing your listening strategy, one thing is evident, knowledge is power, and the more information you have at your disposal, the better your strategy will be.
Getting started with developing your strategy
To begin with, you should identify which platforms your audience are engaged with, how they speak about you online and what matters to you in terms of how your brand is portrayed online. Don't cast your net too widely when putting your listening strategy together - keep your focus refined to the audiences which matter most to you based on what you want to achieve, and only gather the information you need to know now in order to set up your social listening strategy. As such, we recommend that the strategy is formulated based on specific outcomes and questions, which may see you asking yourself questions such as "what is our share of social conversations compared to competitor X?" or "how is product line A being discussed compared to product line B?" to develop the basis of your strategy setup.
Once you've established your focus areas, you're ready to start building your strategy and set your metrics to measure the success reaped by listening to your target social audience. When planning out what the next few months will look like, be sure to involve a large enough sample of your audience to ensure you're getting sensible data and results to base conclusions on. Also, stick around for about three months when listening so as to measure typical insights which are reflective of a decent time frame so you can pick up a regular rhythm of mentions and discussion topics. Finally, make sure you account for spikes and dips which may be occurring due to other marketing activity, so make note of other campaigns when analysing your results.
Listen, listen, and then listen some more!
Social media listening strategies won't yield results if you're not listening to the right platforms and analysing your data against your key metrics. As everything is happening in real time and in response to events in the real world, you cannot react to it in a static way. Remember that social does not operate in a vacuum, and so tracking and interpreting it every step of the way is critical.