What's in store for natural search in 2011?  Among other things, we are predicting Google and Bing will offer app search before the year is out, competition between Bing and Google will hot up and duplication filters will get even tougher as the search engines take more drastic measures to limit the amount of resource they spend on less valuable content and maximise the focus on everything else.
Google and Bing will offer app search before the year is out
Already as a smartphone user if you have a particular need you probably already feel the pull of your respective app store/marketplace as much if not more than a traditional search engine like Google.  That's a new frontier for search: the idea that instead of finding a website that will be able to answer your question right now, you'll go and find an app and install that app because it will answer the question, and questions like it, again and again, in a more usable way (in the long term).
If you were a health concious person, an example might be "how much fat is in a pint of milk?", a query that on the one hand could lead you to Google, on the other on a hunt for an app that can tell you nutritional information about anything you might be eating or drinking.
So, to maintain any kind of grasp on the mobile user we think the engines will need to be able to point out apps that might be relevant to your search - and even give them a one-click install option for when the search is being carried out from a mobile with the right operating system.  This will manifest as another type of vertical search on Google and Bing, as well as being pulled into the normal results as a universal search element, perhaps something like this: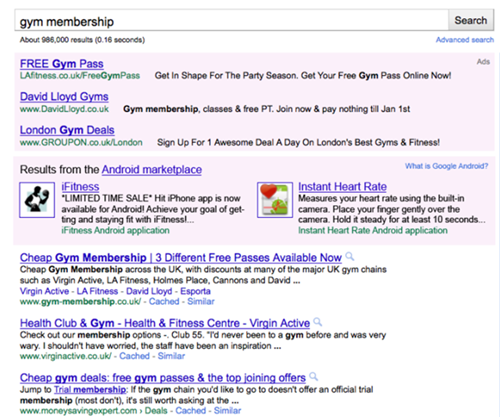 On top of this, serving apps in the search results (to mobile and normal users) will enable Google and Microsoft to push apps for their respective smart phone platforms (Android and Windows Phone) which could help them in the battle against Apple's dominance with the iPhone.
Creating a mobile phone app can already be extremely useful for SEO, in the sense that it gives something for people to talk about, and therefore can be used as central concept for a wide range of link building activities.  If the engines introduce app search it will become even more so, because it will be another opportunity to gain page 1 visibility besides traditional page optimisation.
Bing vs Google heats up
By anyones standards Bing has had a disappointing year in the UK.  Despite having a good search engine with many innovative features and more than holding it's own in terms of strategic partnerships it's market share (according to Hitwise) has barely budged from the 3% point it achieved more or less as soon as it was released in the middle of 2009.  As well as squishing one of our 2010 predictions this will make Microsoft determined to put in a better showing in 2011.
One consequence of this will be an acceleration of the tit for tat game of one-upmanship that Google and Bing have been engaged in since 2009.  Among other things we expect:
Bing to copy Google Instant Preview and introduce image previews of sites, with some additional functionality over the Google implementation such as the ability to zoom or "grab and scroll" the preview with your mouse to take a closer look before selecting which site you're interested in;
Google to introduce a feature similar to Bing's "Recent Searches", only called "Recent Pages", which will list your 5 most recently clicked on search results for easier recollection later on.  Data pertaining to how often a site is revisited when in a users recent pages list will be fed into the algorithm.
Expect this amidst a continued advertising push by Bing throughout the year.
Too much content on the web
The web is big.  Way back in 2008 Google had announced that they had indexed 1 trillion (1,000,000,000,000) unique URLs, belonging to hundreds  of millions of sites.  That alone presents logistical problems for search engines, leading them to consistently develop new ways of finding and indexing content faster.  But  the real problem, of course, is not that there is too much content, but that there is too much similar or identical content that offers no real value for search engines the second, third or one thousandth time they come across it.
This year we saw Google implement it's "May Day" algorithm update, part of which penalised cookie cutter content that is excessively template driven or syndicated to multiple sites in favour of more unique and valuable pages.  Next year we think duplication filters will get even tougher as the engines take ever more drastic measures to limit the amount of resource they spend on less valuable content and maximise the focus on everything else.
Instant previews are here to stay
Predictions about the increased importance of design, usability and customer engagement have been doing the rounds for several years now without ever really coming true.  But Googles introduction of Instant Previews will change that.
Now, search engine users get to see your site before they arrive at it, meaning they'll be making important decisions before you have any chance to engage them with the strength of your content or functionality.  Although Instant Previews usually contain a few highlighted snippets of text as well as the overall screengrab, those snippets are barely noticeable at present making the previews basically entirely graphical.  Consequently if your site design isn't up to scratch you'll start to see click through rates dropping, which will have knock on effects on your rankings too.
It'll be a good year for web design agencies, who should be able to drum up plenty of business with carefully targeted case studies on high ranking but poorly designed prospect sites.  In addition, click through rate optimisation will become it's own semi-discipline build around the arrival of Instant Previews and incorporating competitor analysis, title and meta description optimisation to offer a rounded and inccompelling package to top ranking sites.
Quick Response (QR) Codes will replace "search online" calls to action in ATL advertising
The traditional way of getting users to a site from outdoor, radio or television advertising is to simply include your site URL in the advert.  That's fairly simple and all very well when you have a short and snappy domain name, but unfortunately few businesses are thus blessed.
Some time ago we started to see the advent of search based call to actions, where an advert ends with the line "search widgets online" rather than a URL.  Easier to remember and quicker to carry out, search call to actions promised a much better transition of users from ATL to online.
Next year QR codes will usurp search calls to action in display advertising.  Frankly this is probably just as well given the hash that most companies seem to make of search based calls to action when it comes to SEO, often failing to achieve or even try to rank naturally for the keyword they are encouraging people to search for.  So what's a QR code?
A QR code is a "matrix" or 2D barcode that can be read by many mobile phones and have a URL (among other things) encoded within it, letting advertisers replace the whole affair with a simple point and click. Want a demonstration?  Just point your phones barcode reader at this: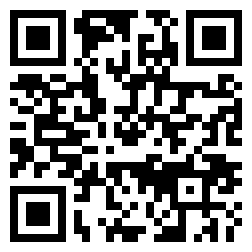 More on Greenlight's paid and natural search predictions for 2011  including the role of social media in search marketing, the changes to local search and the future of mobile search.