If you are a Gmail user, you may sometimes be exposed to a mix of text and image ads that appear under the 'Promotions' tab, or to the right or bottom of your inbox. This highly-targeted form of advertising is Gmail Sponsored Promotion (GSP) and although not totally new, it has been in Beta for a while now.
Similar to Display activity, advertisers can build brand awareness through GSP and at the same time target specific audiences by using demographic data, as well as keywords and product purchases, through the information contained in a user's email inbox. Implemented correctly, GSP campaigns can be a highly cost-effective lead generation tool, for any brand. 
How it works
When it comes to AdWords search advertising, you only pay per click, and similarly with Gmail advertising, you only pay each time a user opens the email. However, once a user has clicked into the email, you don't pay anything for the clicks to your website. You have the freedom to design the ad and customise the messaging, along with the kind of audience you want to reach. You also have the choice of regular image ads, image ads in flash and video content to use within your ad. So be creative, but make it as relevant as possible and make sure you always have a very clear call to action.
Three examples of how to target GSP advertising
Domains
This approach focuses on certain domains contained within a user's emails. For example, a user may receive numerous e-newsletters from companies where the domain name is clearly shown. You can use this information to compile a list of domain names you want to target (e.g. competitors) and easily add them to your campaign.
Product purchases
Within a user's inbox, you can see products they have recently purchased, for example by scanning for order confirmations or thank you emails from similar companies to your brand or competitors. This allows you to target specfied audiences based on their purchase behaviour. 
Jobs
You can also target and segment users based on the professional information they have supplied in their account settings, for example high net worth individuals.
Key Benefits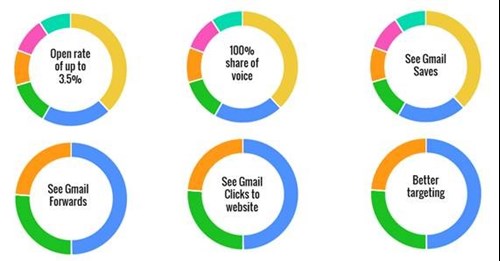 If you have a profitable AdWords Account and extra media spend, GSP is a channel that is definitely worth testing as a way of reaching new and existing customers, with relevant and targeted messaging.