On the 1st of November 2018, I went along to Media Technology Day in Soho. I was particularly interested in the morning session which covered BBC's Blue Planet II series, during which the production team discussed the innovative technology and creative inspiration behind the series. I loved geeking out at some of the equipment stories. For example, they shot on 40 different cameras, some of which had a value of £6,000-8,000, and they also amassed 400 terabytes of footage – meaning that just a fraction of what was shot actually made it to our TV screens.
Adapting to your environment
Believe it or not, cameras and water don't mix. Who knew? So, there was a whole host of ingenuous ways to keep them dry, including custom housing. There was also a whale camera with a suction cup that had to be stuck on. It would track and film the whale diving to serious depths, and a week or so later, pop off and float back up. Once at the surface, it would give out a GPS signal so the producers could collect it, alongside all its stored data and the footage.
Over the four-year production time, the crew consisted of 30-40 people, but at its peak – there was up to 1,000 people working at any one time. Overall, the talk was fascinating and left me in awe of the production team's imagination and willingness to make things happen in order to get those all-important shots.
Seeing virtual imagery while shooting
Later that morning, I popped into a talk by Ncam (a company that enables virtual production through real-time camera tracking, providing live previsualisation of environments, set extensions, and CGI elements). To the layman, that means people behind the cameras can see the virtual world they are in, as exemplified in the picture below: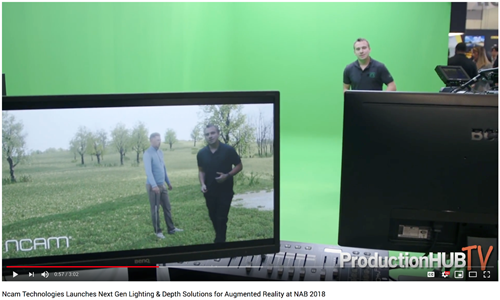 To showcase what it could do, they showed examples from Outlander 2 and 3, which required the team to recreate the Palace of Versailles. They couldn't afford to actually shut down the location to film, so they recreated it in a rainy carpark in England, as shown here: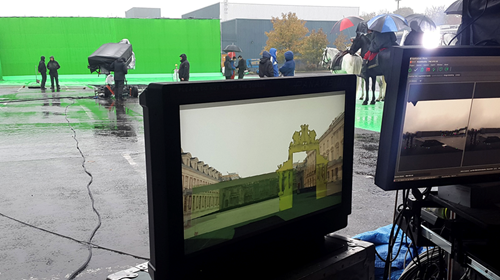 In my opinion, shooting this way is the future, and we'll soon find it impossible to tell what images are computer-generated and which aren't as the lines continue to blur between reality and technology in film. In terms of where we are today, we're at an incredible place, but I believe there's still a lot more to come and I'm excited to see where we end up.