Last week, Facebook announced the launch of a new mobile focused ad format called 'collection', which the social network will release together with a new set of performance metrics in order to allow advertisers the ability to effectively measure ad performance. With the introduction of this format, Facebook continues the trend of creating mobile focused ads which are integrated into the news feed, rather than taking users to an external site straight away.
'Collection' is a shopping ad format which initially presents users with an engaging photo or video, under which four product cards are displayed. The choice of these products can either be made by the advertiser or by Facebook, in which case they'll be chosen based on product performance or user preference. Clicking on the ad opens up a wider array of up to 50 products from which users can click through to the product page.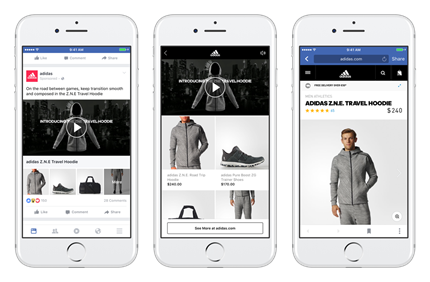 A MOVE TOWARDS BETTER REPORTING
The aim of 'collection' is to provide a format that's more conversion oriented than the recently introduced 'Canvas', which kicked off the trend of news feed integrated ads. Whether it'll be possible to satisfy this expectation remains to be seen as it'll need to be tested against other formats.
In order to increase the transparency of reporting on ad performance, Facebook has started testing an additional reporting metric for 'Canvas' and 'collection'. Whereas previously clicks on the ad and clicks to the site were pulled together into one single click metric, these will now be broken out. A link click metric will report on the number of people who have opened the 'Canvas' or 'collection' and an outbound click metric will report on users who have clicked through to the website - outside of the news feed. The separation of these two clicks should make it easier for advertisers to gauge the quality of their ads and allow them to make any appropriate adjustments.
Facebook's decision to focus on mobile ad formats is very logical considering the ever-growing significance of mobile devices in online shopping. The creation of dedicated ad formats thereby makes Facebook a more competitive advertising platform and should help advertisers and brands in their move to mobile.