The big news in online gaming over the weekend is the seizure and closure by the FBI of a number of online poker sites (Full Tilt, Poker Stars and Absolute Poker). The sites are alleged to be in violation of federal laws that prohibit gambling in most US states. At the time of writing if you visit one of these sites you'll see this: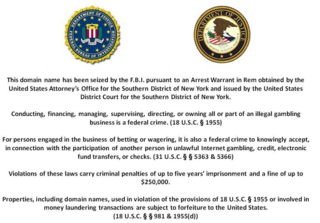 We thought it was interesting to see Google Insights showing a huge spike in activity for the search term "poker" over the weekend, perhaps the result of thousands of US poker players finding themselves unable to play at their usual haunt.  Here's a chart showing exact match search volume for the keyword over time:
Although there is usually a small spike each weekend, Saturday's announcement has fuelled search demand to around double it's usual level. It'll be interesting to see how long this spike continues - presumably as long as it takes all those dispossesed online poker players to find a new home.
Meanwhile London listed online gaming companies such as Bwin and 888 have profited from the news, with shares in both jumping 30% yesterday.
Bwin:

888:

There's a lesson here for search engine marketers and amateur traders alike!