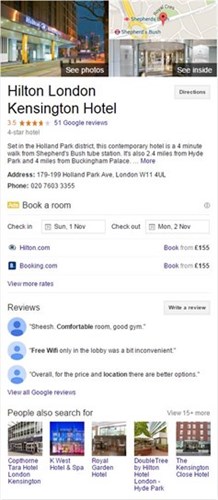 Google has updated Hotel Ads to make it easier for potential customers to make bookings and improve the overall hotel search experience. This marks a move away from Google Hotel Finder which will be fulfilled by Hotels Ads, allowing hotels access to advertise and sell directly through Google, and, in turn, increase their brand's visibility on the most popular search engine.
The Google booking widget has been available since early October, located within the side panel of search results as well as within the search window of Google Maps to line up with typical online search behaviour and how users like to find information. In terms of user experience, the search journey has become easier and clearer - and involves fewer clicks to find the key information that matters to make a booking decision.
One of the major features implemented is the ability to compare and contrast key hotel features against competitors or similar hotel searches, making it easier for customers to research and get a feel for what they will get ahead of making a decision. This is not the only improvement; search results will also include information such as room rates, hotel amenities, availability, locations, user reviews, editorial descriptions, Google Street View functionality and high-resolution photos for individual hotel results.
This is achieved by Hotel Ads accessing the search feed to identify details and rate information on the hotel. Therefore, the quality of feed data is integral for Ads to display relevant, accurate data and gain a strong ranking position against competitors. In keeping with Google's recent updates which favour mobile friendly sites, Hotel Ads will also be available for both desktop and mobile searches (which was not the case for previous Google hotel products).
Further improving the customer journey is Google Hotel Ads' feature allowing users to book their room directly within the Ad widget, highlighting how key page placement is alongside accurate data.
The benefits of Google Hotel Ads includes:
Increased growth for participating hotels through generating qualified leads and improved hotel visibility (see the Google case studies on Premier Inn and Hilton Worldwide)
Improved customer experience and journey thanks to an optimised search experience featuring key information
Bringing more hotel information to search results when browsing
What can be said for Google is that it is veering towards becoming an OTA (online travel agency) due to the "Book A Room" option (available to Hotel Ads partners and users in the United States only for now), much like the service offered through TripAdvisor. This option means participating hotels will be charged on an 'industry-standard commission' basis rather than a 'cost-per-click' basis.
Indeed, attracting direct bookings allows hotels to bypass payments due to other OTA providers, shortening the access chain for both customers and hotel brands alike. Google will be rolling out the feature to more hotels to open up this feature to a wider audience and further increase instant booking opportunities for hotels.
In the UK, Greenlight now has a dedicated Google Product team which will support us with feed optimisation and advise us on best strategy advice for brands looking to use this new feature.