Google has long been the catalyst and evolution of search. However Google has come up against a fierce and game-changing competitor. The competition in question is not however a singular brand or company, it is a completely new marketing channel - social media. Rather than fight it, Google has embraced social media within its results pages, and for advertisers and marketers alike, it is important to fully understand the benefits and potential shortcomings of Google's "social extensions", namely Seller ratings, and Plus One.
In 2011 alone Google has rolled out a number of improvements, including advanced remarketing, improved logic to serving of sitelinks, umpteen refinements to ad creative and display urls', local extensions, enhanced tablet and mobile targeting, instant preview, and a new version of Google Analytics.
Arguably, two of the most significant features for Google to roll out across AdWords was its "social extensions", namely Seller Ratings, and Plus One. There has been much debate of late regarding the impact of social media on SEO, but social media Engagement within AdWords? - This really was something different for us to think about and digest.
What has changed?
Google continues to change the landscape of search, both from a natural perspective, and paid. Its constant refinement of the AdWords system is what keeps us marketers on our toes and eager to find and test new ways of driving incremental revenue to our clients.
What are Social Extensions?
Seller rating extensions (figure 1) display the merchant star rating for companies that meet a certain criteria. The ad extension will show up below the paid media ad in question and show the merchant star rating, along with the number of reviews present on Google Product Search. In addition, you can click through the review total to read the reviews on Google Product Search. Needless to say, merchants that qualify for seller rating extensions have an advantage as shoppers are determining which ads to click through on Google. Again, minor enhancements to paid media ads can make a big difference, particularly when competition is fierce and budgets are limited.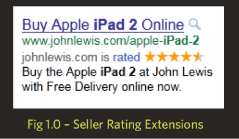 April 2011 saw the launch of Google's latest development to leverage the social graph for its search results. While the company has used social cues from Twitter and Flickr for more than a year to improve organic rankings, Google has now created its own recommendation function, extending it to both paid media and organic search.
The feature is simply called "Plus One" (figure 2). You will be familiar with Facebook adverts and likes, the concept is not dissimilar. When users are logged into Google, they will be able to rate individual search results and adverts by clicking the "Plus One" symbol. Their friends will then see the endorsement.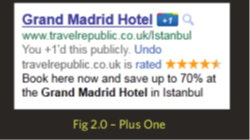 Social Extensions' impact on Paid media
As yet, these social extensions have no direct impact on the all-important, mysterious holy grail of Google Quality Score. However, we can safely assume that it is only a matter of time before these, and other social signals start to have an influencing factor on the algorithm, and therefore performance on the account.
Marketers are already finding ways to utilise these extensions to influence a number of key performance indicators (KPI's) such as Click-thru Rate (CTR), Cost per Click (CPC) and Conversion Rate (CVR). For example, advertisers wanting to stand out from the crowd in the search engine results pages (SERP) have, with good effect, implemented the Seller Rating extension within their AdWords account.
We initially found for a number of advertisers that having the Seller Ratings as part of the adcopy resulted in an increase in CTR, which over time improved Quality Score. However, with an increasing number of advertisers using Seller Ratings, these quick win improvements in CTR are arguably no longer possible, or at least are not as significant as they once were.
The Plus One extension on the other hand has a far greater potential impact on the performance of an advertiser's paid search campaign. I as a user am likely to be more inclined to buy something from a site if it has been recommended, or Plus One'd by someone within my "circles" and therefore trust.
The Shortfalls of Social Extensions
Both social extensions do lend themselves to brands that sell good products / services and/or provide good levels of services. All brands are going to want to achieve as many positive seller ratings as possible, as well as being Plus One'd by vast numbers of users. In theory, this should mean I am able to see which advertiser is likely to give me a pleasurable shopping / user experience, after all, users are not going to Plus One or provide a positive seller rating if they receive poor experience, right? Well, there are either functionality flaws or limitations which mean users are not necessarily going to be aware of any negative levels of feedback. Firstly, Google allows users to Plus One an ad but not a Negative One. So again, in theory an advertiser may have 20 Plus One's, yet 1000 people have had a very poor level of service and would have Negative One'd them given the opportunity or functionality. Therefore, on face value, the advertiser with 20 Plus One's looks good value and one where I would have little reservation in spending my money with.
Presumably then, Seller Ratings would be far more impartial as they allow for users to add a negative review should they wish. However, unfortunately it is not quite so clear cut as the advertiser can opt in (providing they achieve a certain, very easily achieved, criteria), or opt out of displaying the Seller Ratings. Again, theoretically, if an advertiser received a number of negative reviews which could have a detrimental impact on KPI's such as CTR, and CVR, they could simply disable the ad extension, once again potentially hiding valuable social signals away from the end user.
Arguably, it is too early to really understand the full impact of Plus One on paid media results and it's not really something as marketers we can completely influence. With Seller Ratings on the other hand, marketers have some interesting choices to make. By implementing Seller Ratings, are you prepared to sacrifice one of the most significant influencers of CTR in paid media - Site Links? If your strategy is to target the positions down the right hand side of the SERP, positive Seller Ratings can give you a step change in performance and should at least be part of a comprehensive testing schedule.
The future of Social Extensions and Paid media
I wish I knew what the future of paid media looked like, but given the developments and refinements that Google continues to make, we should not be surprised to see a far more joined up social and paid media experience, one that integrates more than just Google's Plus One and Seller Ratings into Google's SERP. (Figure 3)

Integrating search results that your friends have engaged with would be a far easier integration for the likes of Facebook than Google's approach of trying to create its own social network and then shoehorning it into the search results pages. Google also has another major obstacle, the development that had set it apart from the competition - Quality Score. In my view, Google is still trying to work out how to implement social engagement to its Quality Score algorithm, without sacrificing the main reason people chose to use it - relevancy and quality of results.
Ultimately Google will find a way and it is clear social media and social extensions within paid media are here to stay and continue to grow. So it is time to fully embrace it and find innovative ways to continue to drive performance for advertisers.