SORT OUT YOUR MOBILE SITE! GOOGLE WARNS SMARTPHONE SEARCHERS ABOUT HOMEPAGE REDIRECTS

Ever found a result that's exactly what you're looking for, while on your phone or tablet, then got redirected to the homepage of the mobile site when you click on it? Frustrating ain't it? Well Google thinks so too.
This type of 'faulty redirect' can crop up when sites aren't properly set up to handle activity from a device other than a standard desktop PC. Naturally it leads to a poor user experience, high bounce rates and poor engagement of mobile traffic, harming conversion rates and ultimately natural search performance. Google has decided to be helpful and, starting with US searches, when it detects the redirect a user is about to be passed through is not to a like-for-like page, it'll serve up a note like this: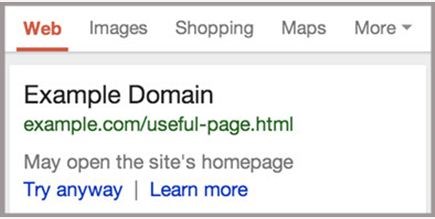 This will allow mobile users the option of clicking through anyway, or avoiding the site and choosing an alternative one with a better mobile setup. With ever increasing mobile traffic, it will be interesting to note click through patterns for poorly set up sites as this rolls out. Basically, the message here is "sort out your mobile site or risk losing a big chunk of mobile traffic". For more information:

http://searchenginewatch.com/article/2348622/Google-Warns-Smartphone-Searchers-About-Homepage-Redirects
http://googlewebmastercentral.blogspot.ca/2014/06/faulty-redirects.html
https://support.google.com/webmasters/answer/4046647
RIGHT TO BE FORGOTTEN: THE SAGA CONTINUES
Confusion and debate continue in the aftermath of Google's RTBF…
EU Commissioner Justice Viviane Reding has been quoted as saying RTBF is small beans compared to copyright takedowns: http://searchengineland.com/eu-commissioner-right-forgotten-small-thing-vs-copyright-takedowns-193485
EU regulators now face myriad challenging issues such as balancing privacy rights with public interest, and the creation of an appeal process for individuals whose requests are denied by Google: http://searchengineland.com/eu-privacy-regulators-meet-amid-make-right-forgotten-chaos-193340
Sergey wants to forget the whole thing: http://searchengineland.com/google-co-founder-brin-wish-forget-right-forgotten-192648
Maria Belen Rodriguez is suing Google (again…) for indexing pornographic search results which appear for searches for her name: http://searchengineland.com/actress-wages-legal-battle-google-indexing-porn-search-results-192572
THE MILLION DOLLAR QUESTION: WHAT MAKES A SUCCESSFUL E-COMMERCE BUSINESS?
We spend the majority of our weeks nose deep in e-commerce sites. So what factors turn a good e-commerce business into a great one? According to Jock Purtle of M&A Consulting firm and Brokerage Digital Exits, it comes down to these:
Profit
Growth
Choosing the right 'table'
Age
Defensibility (including paid and organic performance)
Systems
Clean books
Platform
http://www.searchenginejournal.com/what-makes-a-million-dollar-e-commerce-business/106067/
MORE LINKS WORTH A LOOK...
Matt Cutts explains why it's important to have a website: http://searchenginewatch.com/article/2348618/Invisible-Matt-Cutts-Explains-Why-Its-Important-to-Have-a-Website
New Bing dynamic carouse for music videos: http://searchenginewatch.com/article/2348613/Bing-Rocks-Out-With-New-Dynamic-Carousel-on-Music-Video-Searches

EXPERTS START ANALYSING PANDA 4.0 IMPACT
Two weeks after the first ripples of Google's version 4 update of its Panda algorithm, industry experts have started parsing through case studies and anecdotes. Although the data is not there yet to reach decisive conclusions, there seem to be enough anecdotes to make a preliminary analysis of what Google's intentions were. The following two comprehensive articles observe the following:
Panda rollout took a little more than a week and fluctuations were observed throughout the week of May 27th.
Panda hit sites that failed to handle onpage elements of syndicated content in a 'Google friendly' way. Most PR Wires saw their visibility plummet overnight. Some syndication hungry sites avoided humiliation through proper use of cross domain rel=canonical tag.
Panda is rewarding sites that provide specialised, info rich and query specific content.
A solid adjusted bounce rate reduces the risk of a Panda hit. In other words, the relevancy of content to the query is not enough. Reader engagement and satisfaction are important.
http://searchenginewatch.com/article/2348110/More-Panda-4.0-Findings-Syndication-User-Engagement-Indexation-Keyword-Hoarding/
http://cognitiveseo.com/blog/5536/google-panda-4-0-topical-authority-content-update-2014-case-study/
UNIFORM IMPLEMENTATION OF "RIGHT TO BE FORGOTTEN" IS A CHALLENGE FOR EU BUREAUCRATS
After the landmark European Court of Justice decision stating search engines have to process and, if appropriate, honour personal requests for removing search engine result page (SERP) entries deemed "irrelevant, outdated, or otherwise inappropriate", Google set up a removal request form to process the incoming requests (numbering at 41,000 at the moment according to the SEL report at the time of writing).
However, Google is not the only party that has to invest in admin. EU regulators have to determine what the court's ruling means and determine how to implement it uniformly throughout all EU member countries. Considering member states have different cultural norms with regards to privacy rights, this is a daunting task. Regulators will be meeting later this week no doubt to discuss.
For digital marketers, it will be interesting to see if regulators interpret the ruling in a way that extends the RTBF to Twitter, Facebook etc. Furthermore, regulators will have to determine what type of sites qualify to be listed under the search engine category.
https://support.google.com/legal/contact/lr_eudpa?product=websearch
http://searchengineland.com/eu-right-forgotten-191604
http://searchengineland.com/eu-privacy-regulators-meet-amid-make-right-forgotten-chaos-193340

AUDIT YOUR PPC LANDING PAGES FOR FREE
Through diagnosing your landing pages with this free tool, you can discover how well they are performing in terms of PPC traffic. The tool allows you to evaluate conversion rate, keyword relevancy, campaign effectiveness as well as many other key factors. In a nutshell, this new free tool will help you identify best practise benchmarks for landing pages relating to PPC performance.
http://searchenginewatch.com/article/2348323/New-Wordstream-Tool-Lets-You-Audit-PPC-Landing-Page-for-Free
DOES GOOGLE RANK MATTER?
The key is finding out what is the right position for any given keyword; what position delivers the optimal performance and the best ROI. So, the question is does Google rank matter? This all depends on the interaction of the individual customer. To uncover this, you need to find out the value weight your customer provides to your business.
http://searchenginewatch.com/article/2345638/PPC-Click-Through-Rate-by-Position-Does-Rank-Matter-Data
PPC MANAGEMENT - LOOKING AT THE PAST, PRESENT AND FUTURE
In order to succeed in PPC management, it is important to take into consideration past, present and future performance of your account. The key to success is not to focus too firmly on one place or space of time, but on the  future, past and present. Collating historical trends and averages helps you build and deliver stronger ideas on future strategies. Focusing on the present from checking the health of the account and running regular analyses, is just as important. Staying up to date with new trends, tools etc, will also keep you one step ahead of the game.
http://searchenginewatch.com/article/2344628/PPC-Management-Your-Past-Present-Future