Welcome to Greenlight's weekly dose of Blog Watch! It's that time when we share the latest news and insights that have caught our eye. Enjoy!

GOOGLE UK ADDS IN-DEPTH ARTICLES
In August of last year, Google introduced in-depth articles in the US search results. Since then, it has upgraded the design and functionality of those articles a couple of times.
Now, Google's announced on Google+ that the in-depth articles are going to be showing up in the UK search results.
"Over the next few days we'll be rolling out a new feature to help you find relevant in-depth articles in the main Google Search results."
An illustration of the new In-Depth Articles search results can be seen below:
http://www.seroundtable.com/google-uk-in-depth-articles-18357.html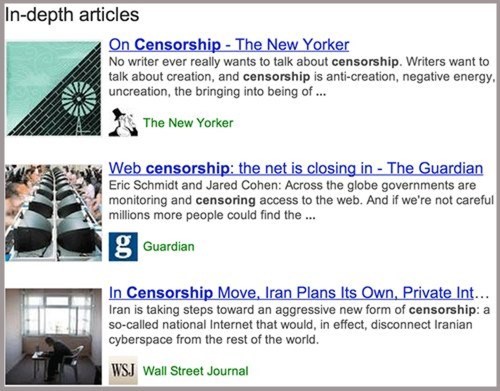 PARALLAX SCOLLING WEBSITES AND SEO - A COLLECTION OF SOLUTIONS AND EXAMPLES
Parallax scrolling is increasingly becoming a common staple of contemporary web design. As with all new web technologies, this does not necessarily play well with Googlebot and other search crawlers. Carla Dawson has posted a great guide to creating SEO friendly Parallex scrolling sites over at the Moz blog.
Parallax scrolling was originally designed for video games, and is a technique in which background images move by the camera slower than the foreground images, creating an illusion of depth in a 2D image. You can view a selection of different sites that incorporate Parallax scrolling at CreativeBloq.

CONTENT METRICS - HOW LONG IS A PIECE OF STRING
Metrics are essential to creating a well thought through, effective content strategy. They help make a more effective writer and determine how you tailor content for your audience. To begin leveraging content opportunities, it's essential to understand content's performance. There are a great number of ways to measure metrics, from focused engagement and success on Social Media to revenue and bottom line - but each metric is different.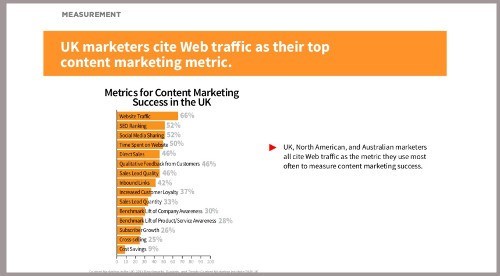 According to the Content Marketing Institute, 88% of UK marketers use content marketing, with only 42% having a documented content strategy. They went on to cite web traffic as their top content marketing metric (66%), with SEO ranking and Social Media sharing at joint second (52%). Whilst there are Key Performance Indicators (KPIs) for monitoring your content success, it seems the perfect metrics for streamlined content measurement are yet to be absolute - according to a piece by Tony Haile in Time.
This piece by Forrester Research's Ryan Skinner in the The Guardian sums it up quite nicely, here's a snippet:
"There are those who try to pull together a host of metrics (consumption, sharing and sales metrics, for example) without applying any particular model or methodology to understand how they relate to each other. This frantic general is measuring everything in aggregate and is, as a result, befuddled."
Recently in Search Engine Journal came the news that LinkedIn is to launch two new tools to assist businesses in their content marketing efforts. The content marketing tool is described by LinkedIn as, "an analytics resource that gives you insight into the impact of your paid and organic content on LinkedIn". Whilst this isn't a tool that can be used across the board, it does deliver the type of metrics you want to understand: content's impact and effectiveness.

Measuring Subjectivity
Following a piece in the New York Times, columnist David Carr speaks of the responsibility journalists now face. It's the writer's job to not only produce content that speaks volumes but gains traffic, too. The measurement of content success for these journalists could turn journalism back into a "booming profession", but there is a need to remain wary. After all, there should be some value to how we evaluate where the traffic comes from. A key takeaway from Carr's piece holds value for both journalists and marketers: "Just because something is popular does not make it worthy, but ignoring audience engagement is a sure route to irrelevance."
He goes on to warn that we're currently facing the degeneration of content, with the threat of all media turning into "click bait" list-driven articles and gifs of kittens. Is this a desperate attempt to generate readership or just a seized opportunity to deliver content that people want to read? Whilst you ponder that thought, here's a picture of some cute kittens in a teacup…

TWITTER LEAD GENERATION CARDS
Lead generation cards allows advertisers to show more information on their Twitter Ads, i.e. instead of the usual text ads, lead generation cards allows advertisers to include an expandable Tweet, an image, header text, offer details, name, @users, email and a customisable call to action button.
https://blog.twitter.com/2013/capture-user-interest-with-the-lead-generation-card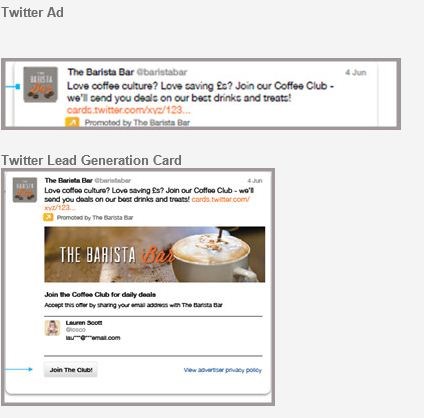 4 WAYS YOU HAVEN'T THOUGHT TO USE GOOGLE ANALYTICS FOR CONVERSION RATE OPTIMISATION
Bounce Rate and Exit Rate
Bounce rate is the percentage of a single page visit and exit rate allows analyst to see which pages viewers are leaving. If one of these metrics is high, then you should be reviewing this page and thinking about what is causing people to leave. The landing page layout may not be suitable for the ad, the layout of the page may need a stronger call to action.
Goal Funnels
Goal funnels look at the user journey, i.e. see where viewers are dropping off, what pages they are spending more time on and if they are going back and forth to different pages. This tool is great to see if the user journey is simple and easy for the user to convert, and if not then the journey may need to be simplified.
Site Search
Site search allows analysts to see what people are typing into your site search box, how many conversions and what pages users are searching on. This is a useful tool because if viewers have to search for the item, then it means that the site navigation may not be simple enough.
In Page Analytics
The in page analytics tool allows you to see the overall click statistics per page. For example are viewers scrolling down the page and clicking on icons, or are viewers clicking on the icons they first see on the top of the page. This is a great tool to prove to clients that their page may need to be amended and optimised.
http://www.ppchero.com/4-ways-you-havent-thought-to-use-google-analytics-for-cro/
http://www.socialmediaexaminer.com/twitter-lead-generation-cards/