A few days ago Google officially launched its flights search feature in the organic results. If you search for "flights from London to Manchester" or "flights to New York", you will now see a selection of flights, flight times and what airlines provide services to your destination above the natural search results.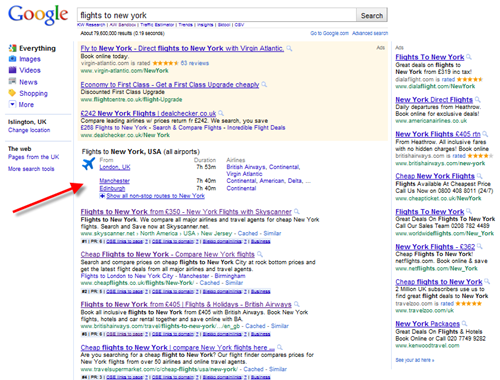 Google's launch is clearly timed to take advantage of the summer peak in flight-related search volumes. Between June and August, over 3 million searches are conducted on Google UK using flight-related keywords.
With the new feature, Google will certainly distract searchers from clicking on some of the high-ranking results from big aggregators like cheapflights.co.uk, skyscanner.net, travelsupermarket.com and many other online travel agents and airlines.
'Flight search' was expected after Google announced its acquisition of ITA Software in July 2010 which was finally given approval by the US Department of Justice (DOJ) in April this year. ITA Software specialises in organising airline data. It is used by many established online companies including Bing as well as online travel companies such as Kayak and Tripavisor and airlines like Air Canada, Alitalia.
Google's ' Inside Search' blog, states that the new feature does not currently use ITA's search technology and that "this is just a small step towards making richer travel information easier to find".
One of the reasons why Google hasn't fully developed the potential of ITA software yet is likely to be due to the fact it agreed with the US DOJ to continue licensing the ITA software "on commercially reasonable terms" (i.e. for another 5 years) to avoid a potential antitrust lawsuit. In the meantime, Google will have the time to develop an advanced system of flights Search and Booking with the potential of becoming a leader in the online flights search sector.
But if Google is not using ITA Software, where does the data come from?

Source: http://www.google.com/help/features.html  
At the moment Google is acquiring the data from Innovata, a company specialising in electronic timetable and route network mapping solutions in association with the Air Transport Association (IATA). According to the company's website, its database includes flight schedules with approximately 900 participating airlines. It would be interesting to know what kind of agreement is in place between Google and Innovata. It could be a temporary solution while Google creates a more sophisticated solution or maybe another potential future acquisition?
Google Search is still the company's most popular service and search is undoubtedly the route that Google will take to enter the consumer travel sector. Google stated last year that it "won't be setting airfare prices and has no plans to sell airline tickets to consumers". However, by offering an enhanced user experience to searchers looking for flight-related information, Google is clearly positioning itself to eventually become a leader in this market.