Expanded Text Ads (ETAs) are finally here, allowing marketers from countries with long-worded languages to breathe a sigh of relief (as a German, I'm delighted to finally be able to write full sentences). As of the end of October, however, we won't be able to create and change Standard Ads anymore, therefore Standard Ads will run alongside ETAs. The date when Standard Ads will stop running is yet to be confirmed. Google is encouraging marketers to test ETA variations (especially different headlines) as much as possible during this time to ensure they're getting the most out of the new ad format.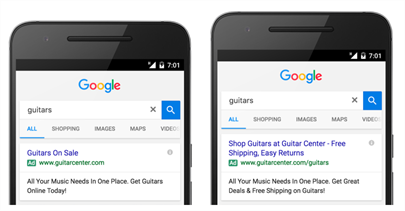 Source: http://searchengineland.com/google-adwords-expanded-text-ads-live-254548
Some of Greenlight's initial results
Initial results have been mixed so far. I've been testing ETAs against Standard Ads on a Brand Pure Exact Match campaign for a large retailer in the German market. I compared data for two weeks and while CTRs were really impressive on Expanded Text Ads compared to Standard ones, the number of impressions have been considerably lower. This result is very surprising considering that the ETAs were served more often than the Standard Ads.
On the conversion side, transactions and conversion rates have come out lower on ETAs than on Standard ones.
While testing ETAs, many advertisers have noted that the second headline had often been cut off despite being within the character limit. As many pointed out, truncation is really about pixels rather than a specific character count. But since ads are based on characters, not pixels, Google has reiterated the recommendation of 33 characters to avoid headline truncation. 
Advertisers who must adhere to strict legal or regulatory ad requirements should consider creating headlines with 33 characters or less to ensure all of their ad text shows - even on the smallest devices. These advertisers should also take into consideration the size (and language) of these characters. For example, an 'M' takes up more space than an 'i'.
To conclude, if you're including compliance-related information in your headlines, if the meaning of your headline changes when truncated, or if you just don't want your headlines to be cut off, it's probably best to stick with 33 characters.
At Greenlight we'll be using our time carefully before the 26th of October to test different ETA wordings, especially for headlines. We're expecting CTRs to drop again after a while due to all ads being expanded and shown in all positions. While we've seen a higher CPC on ETAs compared to Standard Ads (as ETAs have initially only been shown in the first positions), we expect ETA CPC's to drop again over time, once ETAs are being shown in all positions.