Having been tested since 2010, Google announced on Friday 19th February 2016 the removal of right hand side ads on desktop across Google Search and Search Partners with immediate effect.
Wait...what's happening?
Moving forwards, Google will show three ads at the top and three ads at the bottom of search results, reducing the average amount of ads per search engine results page (SERP) from 11 to six. There are three exceptions to this:
Shopping - the Product Listing Ads (PLA) boxes will sometimes show on the right hand side or will show at the top of the page
Ads in the Knowledge Panel
Highly competitive searches may show four results at the top of the page, but Google has stated that this is likely to be only in a small percentage of searches
This means the SERPs will look more like the below examples: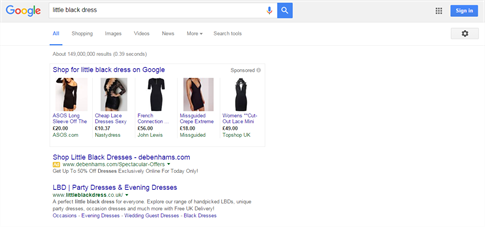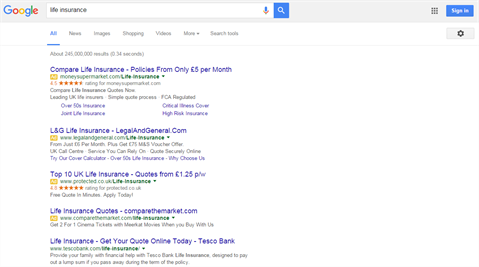 The subsequent look and feel is more sparse and resembles mobile SERPs. We know that Google's innovation has been more focused on mobile devices in recent years which might explain the update.
How will this affect my performance?
Most people's first reaction to this news is "cost-per-clicks will skyrocket". Before panicking, we wanted to review some aggregate data across our accounts.
We started by splitting out 'brand' and 'non-brand' by top position vs. others, followed by separating Google Search and Search Partners.
For 'brand' (that's to say all brand and related product keywords) on Google Search we saw significantly higher click through rates (CTR) and conversion rates (CVR) in the top spot than at the side or the bottom, resulting in lower cost-per-clicks (CPC). Now, for pure brand keywords, this isn't much of a problem given that bidding on your own brand will likely put you in first position - which is at the top of page the vast majority of the time. However, for what we call 'brand extensions' (brand and product keywords such as 'Greenlight PPC'), this may be trickier. Competition can vary on these terms from vertical to vertical, but in many industries there is a lot of competitor bidding on brand extensions - leading us to speculate that this could lead to increased aggression and therefore increased CPCs across brand extension terms. For Search Partners, the CPCs are actually higher in the top spot than they are on the side or bottom, which could suggest an increase in CPCs coming from Search Partners, but it could also simply be a reflection of the fact that not all Search Partners offer ads at the side.
For 'non-brand' (any keywords without your brand name in the search query), things are even more interesting. Across both Search Partners and Google Search we see a much lower CTR in the 'other' spots than we do at the top - suggesting that one of Google's reasons for the change is likely falling CTR in right hand side ads. We also see much higher CPCs in Google Search for the top spots (although for Search Partners the CPCs are actually lower for top spots). CVR is reasonably similar in both top and other positions for Google Search, but the lower CPCs for side and bottom ads have resulted in a lower CPA.
| | | | | |
| --- | --- | --- | --- | --- |
| Category | CTR | CPC | CVR | CPA |
| Brand | 15.61% | £0.27 | 9.8% | £2.74 |
| Google search: Other | 1.95% | £0.40 | 2.3% | £17.09 |
| Google search: Top | 32.29% | £0.26 | 9.9% | £2.66 |
| Search partners: Other | 0.23% | £0.35 | 3.1% | £11.25 |
| Search partners: Top | 9.15% | £0.49 | 12.1% | £4.08 |
| Non-brand | 1.77% | £0.99 | 1.5% | £66.49 |
| Google search: Other | 0.78% | £0.67 | 1.7% | £39.13 |
| Google search: Top | 3.97% | £1.02 | 1.4% | £71.81 |
| Search partners: Other | 0.11% | £2.31 | 3.0% | £78.23 |
| Search partners: Top | 1.50% | £1.43 | 1.1% | £128.74 |
| Grand total | 6.10% | £0.41 | 8.2% | £5.05 |
This brings me to an interesting point. We've had years of testing and optimising these campaigns, allowing us to understand what positions work best on a keyword-by-keyword basis to bring both conversions and cost efficiencies. A lot of that now goes completely out the window. We need to retest across the board to understand what keywords are strong enough to perform in the top spots - certainly not all keywords that were in lower positions previously will make the cut.
You definitely want to be in the top spot for performing keywords, which likely means increasing bids as competitors do. However, not all keywords will be worth the investment to get into those top three or four spots. All accounts and keywords will need to be reviewed individually to understand what's worth pushing and what's not, allowing spend to be attributed towards those that will work in those top spots.
What about my organic rankings?
Search engine optimisation (SEO) does take a hit with this update. The results are clearly pushed further down the page, making investment in PPC even more important for highly competitive terms. This also means that conversion becomes even more important: what's the point in working harder on SEO and spending more on PPC if landing pages aren't optimised?
So, what do I need to do now?
It's important to understand how all keywords are performing and which keywords are worth hitting that top spot. Those keywords will need constant monitoring to remain in top positions and to ensure CPCs aren't increasing as competitors bid for the same terms.
I wouldn't recommend pausing other keywords straight away, but rather to monitor how keywords are performing in the bottom spots - will users start interacting with them more, given that there are fewer ads at the top? Perhaps, but perhaps not - it's certainly something worth keeping an eye on though.
Most of all, ensure you are covering all bases. Search ads won't be shown on the right hand side, but Shopping ads will. If you're a retailer, make sure you have a fully optimised Shopping feed so you can secure those spaces. You may need to invest more in Shopping as a channel, as we expect this to become increasingly more competitive given that retailers will want to avoid paying extortionate CPCs for competitive terms. Think about Remarketing Lists for Search Ads (RLSA) and Customer Match - are you utilising available audience targeting tools to the best of their ability? Weighting budget towards users which have been to your site before - or belong to CRM data - should be worth paying a higher CPC given the higher likelihood to convert.
Finally, are you thinking bigger than Google? Search is already a saturated space, and this change does make it more competitive. While it's still vital to appear in the SERPs, be selective with which terms and which audiences you choose for those top spots - and when attributing spend to that, there's no need to spend more; rather, it's about being smart with keyword selection, audience targeting and Shopping. However, once users do find you in the SERPs, you want to make every click count. This makes other channels more important - are you building your base through social media? Are you brand building through Display? This is necessary so that users know who you are when they see you in the SERPs. Finally, ensure you're using email and affiliate campaigns to reengage users and that remarketing is driving lost users back to the site to convert. With Search becoming more competitive, it's even more vital to have all these channels working together - focused on the right users at the right time.