The Olympics has come and gone, and the big question for brand sponsors is whether their sponsorship was worth the hefty price tag. We've been using our own Social Media framework to try to answer that question, taking a close look at Adidas and Cadbury specifically. In the final post of our Social Olympic series, we discover the brands that did best were those who took full advantage of the real-time nature of social media to tell a compelling story.
While most people had their eyes fixed on last night's Olympics closing ceremony, no doubt the official sponsors were at least partially distracted by the big question that will loom over the rest of their financial year: was it worth it?
The financial results won't be out for a while, but part of the answer can be gleaned from Social Media. London 2012 was the most digitally-connected Olympics we've seen, with Social Media playing an almost ubiquitous role in the Games. Athletes, viewers and brands participated with tweets, photos, videos and more, always in the moment, and often on-scene at the events themselves. It's this real-time nature that made Social Media transform the way we have experienced the Olympics, and it's also the real-time nature of Social Media that has held the key to brands making the most of their Olympic sponsorship.
How did our brands do?
We've been keeping a close eye on official sponsors Cadbury and Adidas leading up to and during the Olympic games. Our research over the period shows sponsorship was a slow burner for these brands, both of which saw little fluctuations in online buzz in the months leading up to the Games. As the Olympics neared however, conversation picked up, peaking as you'd expect with the games themselves. Still, the gains aren't hugely dramatic, and much of the chatter has been due to general conversation about brand sponsors.
Furthermore, the relative proportion of positive discussion changed little. With Social Media playing such a huge part in this year's Olympics, you might have expected a bit more from Adidas and Cadbury. It begs the question: did Olympic sponsorship result in more positive buzz for the brands? Perhaps, but it also resulted in more negative buzz, too.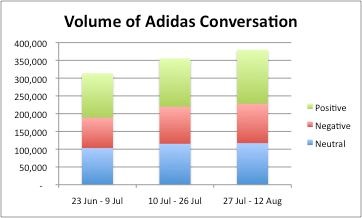 Source: Brandwatch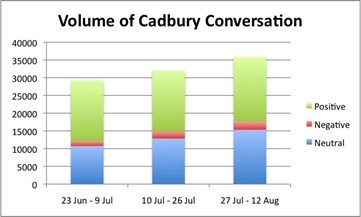 Source: Brandwatch
This isn't to say Social Media didn't impact Cadbury and Adidas. In fact, it played a huge role in their campaigns, particularly when the Games kicked off on 27 July.
Daily Volume of Cadbury Conversation

Source: Brandwatch

Daily Volume of Adidas Conversation

Cadbury: Innovative, but not necessarily effective
Cadbury had an early win with its Wispa Unwrap Gold campaign. But its big digital innovation came from its interactive Cadbury House, open in Hyde Park throughout the Olympics, allowing visitors to swipe a Radio Frequency Identification (RFID) Oyster-like card that instantly sent status updates and photos to Facebook and Twitter when swiped at touchpoints around the venue.
The concept is pretty cool, and Cadbury pushed it hard, particularly on Facebook where it posted pictures and posts from Cadbury House. Based on their high volume of 'likes' and comments, these posts resonated with their target audience (it helped that Cadbury had some high-profile athletes on board, too).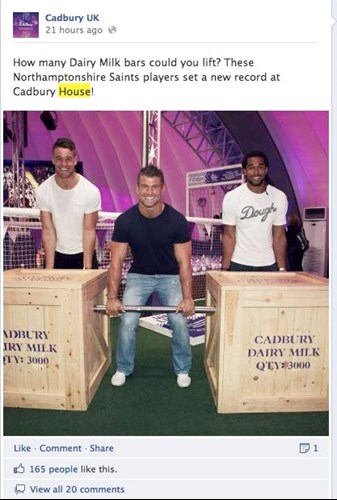 https://www.facebook.com/photo.php?fbid=318937914869968&set=a.176866239077137.37956.166143486816079&type=1&theater
Of course, the whole point for Cadbury was to get visitors to share their experiences on Social Media, thus spreading the good word of Cadbury's awesomeness to their network of online friends. To that end, the RFID cards have worked to a point. We saw numerous exuberant tweets from visitors to Cadbury House, posting pictures from their experience.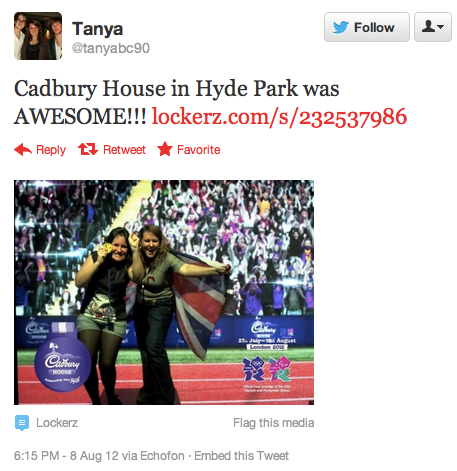 https://twitter.com/#!/tanyabc90/media/slideshow?url=http%3A%2F%2Flockerz.com%2Fs%2F232537986
But with total online mentions of Cadbury House at 1188 over the last month, compared to, for example, the millions of YouTube views some sponsors' adverts have experienced, this "win" doesn't seem particularly overwhelming.
Adidas finally has a win
In the weeks leading up to the Games, Adidas stumbled through Social Media, plagued by various bits of bad press involving such things as child labour and slavery sneakers. But with the start of the Games, Adidas'  "Take to the Stage" campaign finally took to the stage itself.  
One big success was getting David Beckham to surprise visitors at an Adidas photoshoot, and then post a YouTube video of the results. The video has had about 3 million views so far and made it to the Campaign Viral Chart on 27 July.
Beyond this, Adidas didn't seem to push Social Media as much as other sponsors, but maybe the company didn't need to. Its logo is splashed all over the Olympics, including on all of the Team GB kit worn by British athletes, and with video and pictures playing such a huge role in the Games, their brand was inevitably splashed across the web by anyone taking a picture. Adidas didn't necessarily have to push Social Media - the people in the audience, both journalists and onlookers, did it for them by default.
Early reports from Adidas suggest sponsorship has paid off. The company reports sales are up 15% year-on-year in its second quarter, part of which Adidas credits to the "Take to the Stage" Campaign and the approximately €100 million in sales of Olympics-related merchandise (though it's worth noting this is only a fraction of the €1.6 billion in sales it anticipates from soccer this year).
Lessons from the other players
The data leaves us wondering whether Adidas and Cadbury made the best use of Social Media during the Olympics. One only has to look at the sponsors who DID nail Social Media to see its potential. For example, P&G's "Proud Sponsor of Moms" campaign which used video to disperse compelling, emotional stories that people naturally wanted to share. But P&G went further by recognising the potential of real-time in delivering these stories. For example, during a beach volleyball match played by Americans Misty May-Treanor and Kerri Walsh, P&G aired a "Thank You, Mom" segment half way through the third set featuring Mrs. Walsh praising her mother, followed shortly thereafter by a P&G ad ( AdAge).
AT&T also recognised the importance of real-time in making the biggest impact amongst consumers. For example, one of its ads included footage of American swimmer Rebecca Soni winning the gold medal, an ad that aired immediately following the US broadcast of the race that night. The Financial Times quoted Kevin Burke, the company's chief marketing officer of core products, as saying, "This real-time communication increases consumer engagement, is hyper relevant and can help stir social conversation."
There are many layers to the success of these campaigns. Not only do they take advantage of Social Media's real-time nature, but they also surprise people with something unexpected. Moreover, they tell stories that people want to share and, critically, stories that create synergies between the event they're sponsoring and the brand itself. It's complicated, and illustrates just how hard it is for brands to really crack the Social Media nut and create content that makes an impact.